Space Foundation Press Releases
---
Space Foundation Selects NASA's Double Asteroid Redirection Test Team as 2023 Space Achievement Award Recipient
Written by: Space Foundation Editorial Team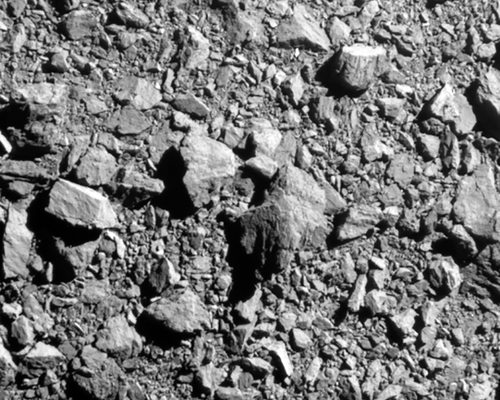 Last complete image of the asteroid Dimorphos, as seen by DART two seconds before impact. Image Credit: NASA/Johns Hopkins APL
COLORADO SPRINGS, Colo. — Feb. 8, 2023 — Space Foundation, a nonprofit advocate organization founded in 1983 for the global space ecosystem, today announced that NASA's Double Asteroid Redirection Test (DART) Team has been selected as the recipient of this year's Space Achievement Award. The award will be presented April 17, 2023, during Space Foundation's Space Symposium opening ceremonies to be held at The Broadmoor in Colorado Springs.
NASA's DART spacecraft launched on a SpaceX Falcon 9 rocket from Vandenberg Space Force Base in California and successfully impacted its target asteroid, Dimorphos, on Sept. 26, 2022. While Dimorphos posed no hazard to Earth, DART's successful collision with the asteroid demonstrated one method of asteroid deflection using kinetic impactor technology.
"As a first-of-its kind research mission for planetary defense, DART was another sterling example of the global teamwork and expertise required to make the unimaginable possible," said Space Foundation CEO Tom Zelibor. "This mission proves that there is no place humanity cannot touch when we work together for common purposes. The entirety of the DART team is to be commended for their extraordinary work in planetary defense and research."
"Congratulations to NASA's DART team and to our partners around the world who helped to make this mission a success," said NASA Administrator Bill Nelson. "DART was a watershed moment for planetary defense. NASA will continue to build on that legacy to be ready for whatever the universe throws at us!"
Established in 1995, Space Foundation's Space Achievement Award recognizes individuals or organizations that have demonstrated attainment, breakthrough space technology, or program or product success representing critical milestones in the evolution of space exploration and development. The Space Achievement Award is presented annually at Space Symposium.
For additional details on Space Foundation's Space Symposium to be held April 17-20, 2023, visit www.spacesymposium.org.
About Space Symposium
Space Symposium is the premier assembly for the global space ecosystem, hosted by Space Foundation since 1984. The live event is widely attended by commercial and government leaders, young professionals, entrepreneurs, and educators in Colorado Springs, Colorado. Last year's Space Symposium enabled its thousands of global attendees to seamlessly engage and conduct business both in-person and virtually. For more information, please visit www.spacesymposium.org.
About Space Foundation
Space Foundation is a nonprofit advocate organization founded in 1983, offering a gateway to information, education and collaboration for space exploration and space-to-Earth industries that define the global space ecosystem. Driven by a partnership model, Space Foundation operates three divisions that unite the entire spectrum of stakeholders — business, government, education and local communities — through support from corporate membership, sponsorship, fundraising and grants. Symposium 365 is the premier source for media and events, including the world-renowned Space Symposium and The Space Report; Center for Innovation and Education is a lifelong learning provider; and Global Alliance facilitates collaboration around the world. Visit Space Foundation at www.SpaceFoundation.org, and follow us on LinkedIn, Facebook, Instagram, Twitter and YouTube.
About NASA/DART Mission
Johns Hopkins APL built and operated the DART spacecraft and manages the DART mission for NASA's Planetary Defense Coordination Office as a project of the agency's Planetary Missions Program Office. Since DART's impact with its target asteroid, telescopic and radar facilities contributed observations used by the DART team to confirm by how much DART altered Dimorphos' speed and path. For more information about the DART mission, visit: nasa.gov/dart.
###
All brand names and product names are trademarks or registered trademarks of their respective companies.
Tags: Space Foundation, Space Symposium, Space Achievement Award, NASA, Double Asteroid Redirection Test, space industry event, space technology, space innovation, space ecosystem, space exploration
Media Contacts:
Rich Cooper
Vice President, Strategic Communications & Outreach
Space Foundation
(202) 596-0714
[email protected]
Natasha Pinol
NASA Headquarters, Washington
202-358-0930
[email protected]
Dottie O'Rourke
TECHMarket Communications
(650) 344-1260
[email protected]
---
Posted in Space Foundation Press Releases