Partner News
---
L3Harris to Build Geostationary Weather Satellite Sensors for Japan
Written by: Space Foundation Editorial Team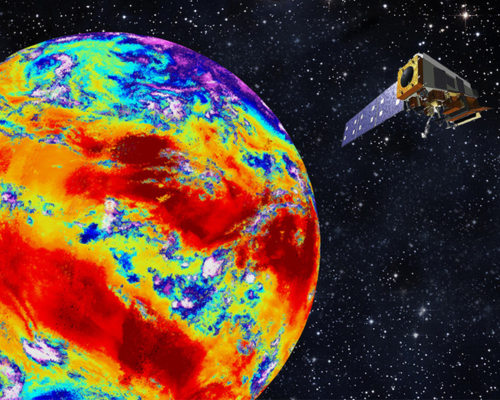 MELBOURNE, Fla. — April 13, 2023 — L3Harris Technologies (NYSE: LHX) received a contract to provide next-generation geostationary imaging and sounding instruments for the Japan Meteorological Agency (JMA) that will monitor and predict severe weather events more accurately. The award continues L3Harris' legacy of producing critical space-based weather instruments for Japan.
Under the terms of the contract with the Mitsubishi Electric Group, L3Harris will build and deliver an advanced imager and sounder for JMA's Himawari-10 satellite. The imager will use a similar technical platform as L3Harris' Advanced Baseline Imager (ABI) on NOAA's Geostationary Operational Environmental Satellite-R (GOES-R). The imager will also carry enhancements beyond its predecessor, Himawari-8/-9, including tailored Japanese spectral bands to supply the most advanced geostationary weather information for the international community.
The addition of a next-generation hyperspectral infrared sounder on the Himawari-10 mission will provide improved weather prediction accuracy and enhanced environmental monitoring for extreme weather events impacting Japan. This includes enabling precise measurements, such as temperature, moisture and pressure, throughout the atmosphere.
"L3Harris' expertise in delivering the most advanced weather instruments in the world continues to be validated through international collaborations like this one with the Mitsubishi Electric Group for Japan's critical weather needs," said Ed Zoiss, President, Space and Airborne Systems, L3Harris. "Our next-generation capabilities will enable forecasters to make better real-time decisions to counteract the threat of severe weather and disaster events in Japan and throughout much of Asia-Pacific."
L3Harris is an industry-leading provider of weather sensors flown by U.S. and international customers, including Japan and South Korea. This interoperability enables sharing geostationary weather data globally.
"This award continues L3Harris' role of being a trusted, multi-generational partner of advanced weather satellite technology for civil, commercial and international markets and demonstrates our commitment to advance and improve our customers' capabilities for the future," said Rob Mitrevski, Vice President and General Manager, Spectral Solutions, L3Harris. "For more than 60 years, we have proudly developed critical technology for customers like the Mitsubishi Electric Group and JMA — advancing climate science, increasing severe weather warning time and ultimately saving lives."
The Himawari-10 imager and sounder will be developed and built at L3Harris' Fort Wayne, Indiana facilities.
About L3Harris Technologies
L3Harris Technologies is a Trusted Disruptor for the global aerospace and defense industry. With
customers' mission-critical needs always in mind, our 46,000 employees deliver end-to-end technology solutions connecting the space, air, land, sea and cyber domains.
Forward-Looking Statements
This press release contains forward-looking statements that reflect management's current expectations, assumptions and estimates of future performance and economic conditions. Such statements are made in reliance upon the safe harbor provisions of Section 27A of the Securities Act of 1933 and Section 21E of the Securities Exchange Act of 1934. The company cautions investors that any forward-looking statements are subject to risks and uncertainties that may cause actual results and future trends to differ materially from those matters expressed in or implied by such forward-looking statements. Statements about technology are forward-looking and involve risks and uncertainties. L3Harris disclaims any intention or obligation to update or revise any forward-looking statements, whether as a result of new information, future events, or otherwise.
# # #
Media Contacts:
Irene Lockwood
Space and Airborne Systems
[email protected]
(585) 465-3592
Sara Banda
Corporate
[email protected]
(321) 306-8927
---
Posted in Partner News