Partner News
---
Phantom Space Corporation and Equatorial Launch Australia Expand Scope of Future Equatorial Orbit Launches from Arnhem Space Centre
Written by: Space Foundation Editorial Team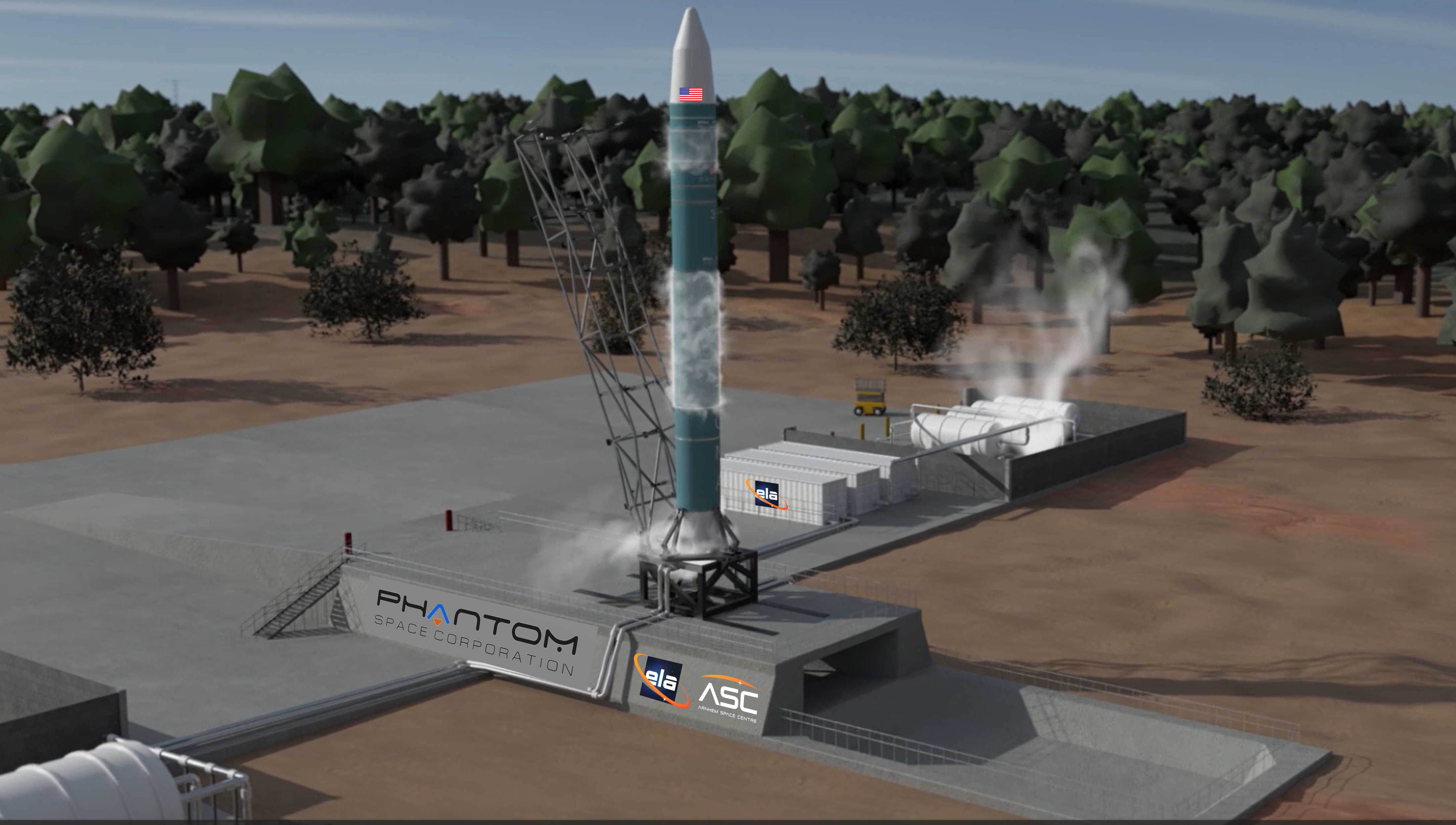 Image Credit: Phantom Space Corporation
Equatorial Launch Australia — April 19, 2023 — (ELA) the developer, owner and operator of the Arnhem Space Centre (ASC) on the Gove Peninsula in Australia's Northern Territory,  having previously signed an undisclosed Memorandum of Understanding (MOU) with American space transportation and rocket manufacturing company Phantom Space Corporation in Sept 2022, is now working towards a multi-launch contract as well as expanding the scope and detail of future cooperation to develop mission profile and launch requirements for multiple launches from the ASC. 
 The scope expansion is both in the detail and conduct of Phantom's planned launches from Australia, but also very 'payload customer' oriented with investigation into expansion of potential commercial and sovereign customers in the Asia Pacific region. In particular, the two companies will collaborate and investigate the generation and support of a space mission of national significance for Australia and the Asia Pacific region. 
The announcement today at the 38th Space Symposium highlighted the intention of Phantom Space to expand its launch base options with a pure commercial and equatorial launch site through ELA. Phantom also plans to launch from both Vandenberg Space Force Base as well as Cape Canaveral Space Force Station. 
 ELA rose to prominence as an international multi-user commercial spaceport after successfully completing three commercial space launches with NASA over a 15-day period in mid in 2022. These launches were Australia's first ever commercial launches as well as Australia's first space launch in more than 25 years, as well as the first launches for NASA from a commercial spaceport. 
 The expanded scope of MOU will see Phantom work with ELA to execute both a multi-launch deal for commercial equatorial orbit launches from the ASC as a "resident launcher", as well as both parties engaging with sovereign and commercial customers to develop and design orbital missions of national importance and significance. The timing of future launches will be dependent on the conclusion of a Technology Safeguards Agreement being signed between the United States and Australia which is currently being negotiated and is expected to be in place by early 2024. 
 ELA's "resident launcher concept" would see Phantom occupy a customised version of ASC's standard 1200sqm Horizontal Integration Facility (HIF) which has all the necessary infrastructure for long term residency, such as ISO8 clean rooms, over-head cranes, storage facilities, offices and workshops. Phantom would also launch from one of two ASC standard launch pads allocated to Phantom,  customised for Phantom's unique requirements. 
 ELA is currently undertaking Phase 2 expansion of the Arnhem Space Centre with an additional 2200 acres being added adjacent to the existing licenced spaceport. The ASC Phase 2 expansion includes at least 14 new orbital pads (allocated two per launch complex), up to 7 HIF facilities, a fuel and gases facility including the production of Liquid Oxygen (LOX), space weather facilities and comprehensive launch, mission and range control facilities and extensive communications and tracking equipment. 
 The ASC is the only commercially owned and run, multi-user equatorial launch site in the world and is located 12 degrees south of the equator on the Gulf of Carpentaria, offering unique benefits for space launches. ASC is also unique as most spaceports are federal/government owned/operated facilities. 
ELA and Phantom's announcement is the first of several agreements ELA is expecting to announce in mid-2023 as it ramps up its operations following the success of the NASA missions.  
Michael Jones, Executive Chairman and Group CEO of ELA said the agreement with Phantom was the next step forward for Australia's space industry.  
"We are delighted to announce this partnership with Phantom Space Corporation which has been developing for some time. We are really keen for Phantom to become a resident launcher and access our world-leading launch site at the Arnhem Space Centre to take Australia's space industry to the next level," said Mr Jones.  
 "We liked Phantom from the outset, their technology, commercial philosophy and quite frankly they have been a launch mentor for us from our first meeting. Their experience and knowledge is a clear standout in the small launcher market. 
 "Last year's successful launches with NASA allowed us to showcase the skill and capabilities of both ELA and the ASC to the world. We're excited to embark on that journey again, this time with Phantom Space Corporation. 
 "This announcement not only confirms ELA's position at the forefront of global commercial space launch, it also confirms Australia as a partner for all companies looking to launch, particularly those that want the unique benefits the ASC provides." 
 Mark Lester, COO of Phantom Space said, "Launch sites are akin to gates at an airport—it's imperative to have a robust portfolio to meet customer needs.  Arnhem Space Centre fits perfectly into Phantom's strategy as it broadens our direct access to new orbital regimes with a proven spaceport.  In addition to ASC's unique geography, ELA's success with NASA's space launches and their ability to provide a full-service spaceport at low cost were key elements in selecting ASC as our next dedicated launch site. We look forward to continuing to work with the ELA team to provide assured access to space for our customers." 
Phantom's CEO Jim Cantrell said, "Australia has been a great friend to the United States throughout the years and we at Phantom are proud to lead the way in utilizing this unique new launch complex from Australia.  We look forward to the success of this partnership in the great tradition of the history between the two countries."   
 About Phantom Space Corporation

Phantom Space Corporation is a US-based space services company providing all-in capabilities for satellite manufacturing to business and government clients: satellite design and production, rocket design and construction, launch services, and constellation management. It was founded by Jim Cantrell and Michael D'Angelo, both inventors and entrepreneurs in 2019. The company aims to provide reliable and affordable access to space to a broad set of new space users.  To learn more, visit www.phantomspace.com.
About Space Symposium
Space Symposium, hosted by Space Foundation since 1984, is the premier assembly for the global space ecosystem. The live event, held in Colorado Springs, Colorado, is widely attended by commercial and government leaders, professionals, entrepreneurs, and teachers around the globe. To learn more about Space Symposium, visit www.space symposium.org.
###
Media Contacts:
Jason Kemp
Equatorial Launch Australia
E: [email protected]
M: 0423165324
www.societymarcom.com
www.societystudios.co  
Michael Jones – CEO
Equatorial Launch Australia
E; [email protected]
M: (US) +1 206 538 9719
M: (AU) +61 414402166 
Mark Lester – COO
Phantom Space Corporation
E: [email protected]
M: +1 719 661 1843
www.phantomespace.com 
---
Posted in Partner News