Space Foundation Press Releases
---
Space Foundation Partners With the Netherlands Ministry of Foreign Affairs to Support and Promote Dutch Space Sector in U.S.
Written by: Space Foundation Editorial Team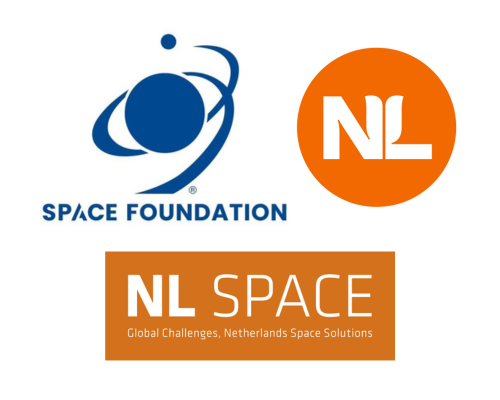 COLORADO SPRINGS, Colo. and Washington, D.C., — Aug. 22, 2023 —  Space Foundation, a nonprofit organization founded in 1983, offering information, education and collaboration for the global space ecosystem, today announced that its Space Commerce Institute is partnering with the Netherlands Ministry of Foreign Affairs, represented by the Embassy of the Kingdom of the Netherlands in Washington, D.C., to support and promote the Dutch space sector in the U.S. market.
In collaboration with the Dutch government, Space Foundation will act as a liaison to support a cluster of organizations from the Dutch space industry, both in the civilian and military domains so that they may better understand and navigate U.S. space market opportunities, while also bringing awareness to potential clients and stakeholders of their immense capabilities.
The two-year partnership will include various initiatives and networking opportunities, providing a platform for the Dutch companies to connect with the U.S. space industry.
The partnership aims to strengthen the ties between the Dutch and American space industries, fostering collaboration and knowledge exchange. The Dutch foster a forward-thinking culture that is open to experimentation and cross-disciplinary ideas. This open-minded attitude helps Dutch innovators break the mold time and again and makes them great partners for international collaboration. By leveraging its extensive network and expertise, Space Foundation will facilitate connections and provide valuable insights to Dutch space companies seeking to expand their presence in the U.S.
"With a legacy of technical excellence and a spirit of collaboration, the Netherlands is poised to contribute great value and advancement to the space ecosystem," said Kelli Kedis Ogborn, Space Foundation vice president of space commerce and entrepreneurship. "We look forward to helping them forge new partnerships that will shape the industry."
The Netherlands has a thriving space sector, known for its innovation and technological advancements, and is one of the founding partners of ESA. The space ecosystem is optimally tuned to provide key knowledge, know-how, products and services for the space challenges of the future. With particular expertise in scientific instrument design, small satellites and space craft propulsion, solar energy, and laser communication the Netherlands contributions in space span the domains of Solar System exploration, Earth and climate science, and commercial activities. Through this partnership, Space Foundation and the Dutch government aim to showcase the capabilities and achievements of Dutch space companies to the American market, opening doors for potential collaborations and investments.
"In this exciting time with new discoveries created by space exploration and space science, international collaboration is essential. The Netherlands and the U.S. have been and will remain important partners for solving global challenges through solutions in space. I am eager to kick-start long-term programming to create even more opportunities to work together in the future," said Alexandra Dousi- De Vogel, Innovation Attaché at Embassy of the Kingdom of the Netherlands in the USA.
About the Netherlands Ministry of Foreign Affairs
The Ministry of Foreign Affairs is the channel through which the Dutch Government communicates with foreign governments and international organisations. It coordinates and carries out Dutch foreign policy. The Ministry has two halves: its headquarters in The Hague and its missions abroad (embassies, consulates, and permanent representations). With representation in Washington, D.C., Atlanta, Chicago, Miami, New York and San Francisco, it supports Dutch citizens and entities to promote innovation, international trade and partnerships, and to tackle global challenges. For more information regarding space tech collaboration please contact: United States | Netherlandsandyou.nl
About SpaceNed
SpaceNed is the industry organization of the Dutch Space Sector; representing more than 60 affiliated organizations; ranging from companies, knowledge institutes & universities. The goal is to create and continue the conversation and partnership between international commercial businesses, national and local governments, agencies, universities, scientific entities and all other stakeholders. Representing the broad scope of Dutch space organisations as their members, SpaceNed focuses on strengthening the position of the Dutch market in the global space industry. Driven by a strong belief in collaboration, SpaceNed facilitates and supports its members by networking, media relations, organizing export missions, seminars, lobbying and other knowledge exchange.
About Space Commerce Institute
Space Commerce Institute, established in 2022 by Space Foundation's Center for Innovation and Education, is dedicated to opening and expanding opportunities to connect with the most dynamic economy in the world through information, experience, training, mentorship and consultancy. With jobs, services and markets forecasted for considerable growth, Space Commerce Institute allows participants to learn from experts who have perfected what it takes to navigate the evolving mandates from concept to creation and grow businesses in the global space economy. Capitalizing on four decades of advocacy for the space community and leveraging Space Foundation's unparalleled global network of space leaders, Space Commerce Institute provides accessible, actionable, tangible and targeted programming to bridge the knowledge gap and move participants swiftly toward their goals. To learn more about Space Commerce Institute, visit www.spacefoundation.org/sci.
About Center for Innovation and Education
Center for Innovation and Education is a lifelong learning provider for the global space ecosystem, offering workforce development and economic opportunity via Space Commerce Institute and Space Foundation Discovery Center. Serving pre-K-12 and university students, teachers, entrepreneurs, businesses and professionals, programs and resources are delivered in person or online around the globe. Through its Workforce Development Roadmap of programs and resources, Center for Innovation and Education enhances the outlook and opportunities for careers, jobs and business ventures. To learn more about Center for Innovation and Education, visit www.spacefoundation.org/cie, and Space Foundation Discovery Center, visit www.discoverspace.org.
About Space Foundation 
Space Foundation is a nonprofit organization founded in 1983, offering information, education and collaboration for the global space ecosystem. Driven by partnerships, Space Foundation unites the entire spectrum of stakeholders — business, government, education and local communities — through support from corporate members, sponsors, fundraising and grants. Visit Space Foundation at www.SpaceFoundation.org, and follow us on Facebook, X, Instagram, LinkedIn, and YouTube.
###
All brand names and product names are trademarks or registered trademarks of their respective companies.
Tags: Space Foundation, Space Commerce Institute, Center for Innovation and Education, Ministry of Foreign Affairs, Dutch Consulate, Dutch space sector, Netherlands, space economy, space technology, space innovation, space ecosystem, space advocate, space commerce, space exploration, space-inspired industries, SpaceNed
Media Contacts: 
Rich Cooper
Vice President, Strategic Communications & Outreach
Space Foundation
(202) 596-0714
[email protected]
Carla Bundy
The Netherlands Embassy in Washington, D.C., – Communications Department
[email protected]
Hessel Kokke
SpaceNed Coordinator
[email protected]
---
Posted in Space Foundation Press Releases