Space Foundation Press Releases
---
Space Foundation to Celebrate World Space Week 2023
Written by: Space Foundation Editorial Team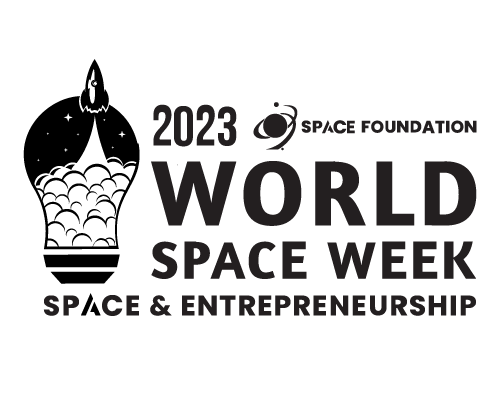 COLORADO SPRINGS, Colo. — Sept. 19, 2023 — Space Foundation, a nonprofit advocate organization founded in 1983 for the global space ecosystem, today announced programming for its celebration of World Space Week 2023, Oct. 4-10. This year, the theme for the annual event is "Space and Entrepreneurship" to celebrate the growing commercial space ecosystem and inspire the next generation of space entrepreneurs.
In announcing the week's activities, Space Foundation's Vice President of Space Commerce & Entrepreneurship Kelli Kedis Ogborn commented, "Entrepreneurship is the compass guiding us toward new frontiers. To achieve our collective wish for the future, it is not just about reaching for the stars, it's about finding practical solutions to our earthly challenges utilizing space-based technology and creating an environment where everyone sees the opportunities in space and their place within the ecosystem."
Programming will be inclusive to all: families, students of all ages, industry professionals and anyone with an appreciation for the development of space and seeking key industry insights. Events include:
Launch of Space Foundation's International Student Art Contest
Small Steps, Giant Leap at Space Foundation Discovery Center
New Generation Washington, D.C., networking event
Homeschool Days at Space Foundation Discovery Center
Lights Out: Experiencing a Solar Eclipse at Space Foundation Discovery Center
Space Commerce Institute and World Space Week – space entrepreneurship video workshops
Please visit discoverspace.org/events/world-space-week for a complete list of activities.
The largest space event on Earth, UN-declared World Space Week is celebrated Oct. 4-10 annually. It is an international celebration of the contribution of space science and technology to the betterment of the human condition. World Space Week consists of myriad space-related events held by space agencies, aerospace companies, schools, planetaria, museums, astronomy clubs and others in a common time frame to achieve greater student and public impact through synchronization.
About Center for Innovation and Education 
Center for Innovation and Education is a lifelong learning provider for the global space ecosystem, offering workforce development and economic opportunity via Space Commerce Institute and Space Foundation Discovery Center. Serving pre-K-12 and university students, teachers, entrepreneurs, businesses and professionals, programs and resources are delivered in person or online around the globe. Through its Workforce Development Roadmap of programs and resources, Center for Innovation and Education enhances the outlook and opportunities for careers, jobs and business ventures. To learn more about Center for Innovation and Education, visit www.spacefoundation.org/cie, and Space Foundation Discovery Center, visit www.discoverspace.org.
About Space Foundation 
Space Foundation is a nonprofit organization founded in 1983, offering information, education and collaboration for the global space ecosystem. Driven by partnerships, Space Foundation unites the entire spectrum of stakeholders — business, government, education and local communities — through support from corporate members, sponsors, fundraising and grants. Visit Space Foundation at www.SpaceFoundation.org, and follow us on Facebook, X, Instagram, LinkedIn and YouTube.
###
All brand names and product names are trademarks or registered trademarks of their respective companies.
Tags: Space Foundation, Space Foundation Discovery Center, World Space Week 2023, WSW2023, international student art contest, STEAM, STEM, space technology, space entrepreneurship, space education, space advocate, space exploration, space ecosystem, Pikes Peak Region
Media Contacts:
Rich Cooper 
Vice President, Strategic Communications & Outreach
Space Foundation
(202) 596-0714
[email protected]
Dottie O'Rourke
TECHMarket Communications
(650) 344-1260  
[email protected]
---
Posted in Space Foundation Press Releases