Space Unites - Inspire a Student Today
Space unites us all, both in the cosmos and right here on Earth. From the technology we use daily to communicate across the globe, to the innovations used to heal people and our planet: space is the driving force. Propelling humanity forward into the future, space connects us all and sparks life-changing advancements here on Earth. Humanity's future rests in the hands of today's students being inspired to reach for the stars.
Bringing space down to Earth, Space Foundation's "Digital Backpack" contains stellar content, tools, and activities for students, teachers, and families. The Digital Backpack is "packed" with: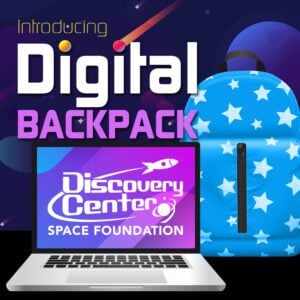 Monthly lessons and sessions informed with space content.
STEM webinar learning tools to help parents and teachers help students with digital and remote learning.
An opportunity to participate in the International Student Art Contest, which inspires young people to use their creative gifts and curiosity to explore the wonders of space and the exciting possibilities in STEM fields.
Engaging video content, including our newest series "Blastoff", which explores the connection between Earth and space, and shares unique pieces of the Discovery Center's out-of-this-world collection.
Home Study Program, both in-person and virtually.
Space Foundation is providing space-inspired education that nurtures those students to become tomorrow's next great explorers, innovators, and entrepreneurs.
Pack their "Digital Backpack" with a gift today!
Join the Mission — Donate Today!