Leadership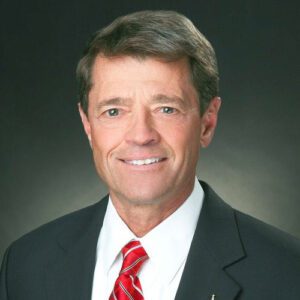 CAPT Jeff Ashby, USN (Ret.)
Former Chief of Mission Assurance, Blue Origin
Jeffrey Ashby was raised in Evergreen, Colorado. He has earned degrees in Mechanical Engineering and Aviation Systems from University of Idaho and University of Tennessee respectively.
Ashby served 25 years as a Naval Aviator, accumulating over 1000 carrier landings and 65 combat missions. He is a graduate of the Navy Fighter weapons School (Top Gun) and Naval Test Pilot School. In his final fleet assignment as Commanding Officer of Fighter Squadron 94, Ashby led his team to earn distinction as the Navy's top performing F-18 squadron.
Following his Navy service, Ashby worked for 13 years as an astronaut and a NASA senior executive. He completed three space shuttle missions including the deployment of the Chandra X-ray telescope and two flights to assemble the International Space Station. He flew as Commander of Space Shuttle Atlantis on Mission STS-112 which delivered and installed a 30,000 lb. truss segment on the orbiting laboratory. His final NASA tour was Senior NASA liaison to Air Force Space Command and US Northern Command in Colorado Springs.
Ashby was Vice President of business development at Alliant Tech Systems (ATK) for two years, working to sustain the critical solid rocket propellant industry through the uncertain period to find a replacement launch vehicle for the retired Space Shuttle.
Ashby moved to the newly formed Blue Origin company in 2005 in the role of Chief of Mission Assurance where he was responsible for ensuring that Blue Origin vehicles were designed and built for high reliability and human safety. During his time in that leadership role, Blue Origin grew from just 26 employees to over 4000, expanded to 5 primary geographic sites, and built and flew 4 different space launch vehicle designs. Ashby initiated the Systems Safety Engineering and Quality Assurance groups at Blue Origin and was a key participant in development of 7 different rocket engines and the architectural design of the Saturn Five-sized New Glenn launch system.
Ashby personally oversaw development of the first ever reusable booster rocket to fly above the 100 km Karman line and return to Earth for a vertical landing, the first ever operational reuse of a rocket booster, the first ever intact landing of a booster rocket after an inflight capsule escape test, and the eventual certification of that New design for human flights. Ashby was a member of the 3-person Mission Management Team that directed all of the New Shepard suborbital test flights and the first Blue Origin flight with private astronauts.
In 1997, while training for Astronaut duties, Ashby co-founded the non-profit Melanoma Research Foundation, an organization dedicated to funding a nationally coordinated research effort for melanoma cancer as a means to give hope to patients and their families.
Ashby was selected as a member of the Board of Directors of the Space Foundation in 2022.