Leadership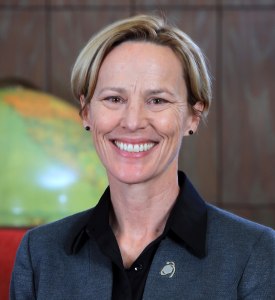 Heather Pringle, Maj Gen, USAF (Ret.), PhD
Chief Executive Officer, Space Foundation
As the CEO of Space Foundation, Heather Pringle is leading the world's premier nonprofit advocate organization for the global space ecosystem. Founded in 1983, Space Foundation's mission is to be the preeminent gateway for trusted information, lifelong education, and seamless collaboration for all people and organizations inspired by space, engaging in space exploration and growing space-to-Earth adjacent industries.
Heather's accomplishments as an officer, educator, innovator, and collaborator come from a 32-year career of global leadership and technical expertise with the U.S. Air Force. Her diverse experiences span the entire acquisition lifecycle from laboratory to field, including science and technology, international partner collaboration, installation and acquisition program management, budget analysis, and support to the nuclear enterprise. Above all, Heather's passion for service is an asset to Space Foundation initiatives in education, entrepreneurship, technology innovation and partnerships.
Most recently, Heather served as Commander, Air Force Research Laboratory, Air Force Materiel Command, at Wright-Patterson Air Force Base in Ohio. Simultaneously, Heather was the Technology Executive Officer, supporting both the U.S. Air Force and U.S. Space Force. Her responsibilities included formulating a comprehensive technology portfolio worth $3 billion that anticipated future warfighter needs, while promoting risk-taking and problem-solving across a 6,000-member government workforce.
In this role, Heather developed a unique understanding of the connection between space and technology advancement for the betterment of life on Earth. As part of a talented and passionate team, she accelerated the discovery and development of solutions for Airmen and Guardians, pushed the boundaries of modern technology and improved the science for tomorrow.
Heather also brings her own global perspective to Space Foundation, having developed and strengthened partnerships around the world. Her career has been marked by the ability to grow and strengthen partnerships with service branches, industry, academia and international allies, which cemented her conviction that collaboration is essential for the global space ecosystem to thrive.
Placing a high value on education, Heather graduated in 1991 with a degree in Human Factors from the U.S. Air Force Academy in Colorado Springs, Colorado, and a Master of Arts in Engineering Psychology from University of Illinois in 1992. She subsequently returned to Illinois to complete her Doctorate in Philosophy, Engineering Psychology, in 2000. Heather benefited from a number of opportunities to further her professional development, including study abroad in southern France, leadership study at the University of North Carolina, and tours at both the Air Command and Staff College and National War College, which earned her master's degrees in 2005 and 2011, respectively.
Heather's list of awards and decorations is equally noteworthy, including the Air Force Distinguished Service Medal, Defense Superior Service Medal, Legion of Merit with oak leaf cluster, Defense Meritorious Service Medal, Meritorious Service Medal with four oak leaf clusters, Joint Meritorious Unit Award, and Air Force Organizational Excellence Award with two oak leaf clusters.
Outside her professional life, Heather recharges by supporting her youngest son's passion for soccer, logging miles on the trails with her husband, and playing duets with her dad on a hand-me-down piano.