Leadership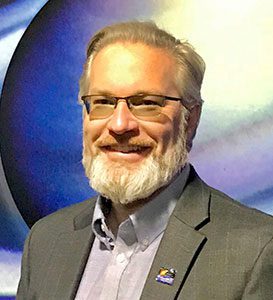 Executive Director – Space Foundation Discovery Center
As Space Foundation Discovery Center Executive Director, Kevin Orangers is responsible for directing the Discovery Center's staff and volunteer corps in developing and facilitating the center's exhibits, field trips, public programming, and laboratory experiences designed for teachers, students, and space museum guests. With his background in educational programming and exhibit design, Kevin works closely with the Space Foundation leadership team in the development of new programs and exhibit experiences for the Discovery Center.
Prior to his start at the Space Foundation Discovery Center, Orangers served the National Liberty Museum (NLM) on its executive team as Vice President of Programs & Operations from 2008–2019, directing all of the museum's daily programming and facilities operations. He was responsible for spearheading the NLM's signature educational initiative called the Young Heroes Outreach Program, an innovative civic and character-
leadership program currently in year-long residencies in Philadelphia and other regional schools.
Kevin began his career with the American Museum of Natural History's mobile educational outreach initiative "The Moveable Museum," and has nearly 25 years of experience in museum operations, exhibit design, program and curriculum development, and community outreach. His continued passion for this work comes from his diverse experience with science and history museums that merge both "high-tech" and "low-fi" design elements, as well as immersive programming that engages the head, heart, and hands. Orangers earned his bachelor's degree in anthropology from Rutgers University.