Leadership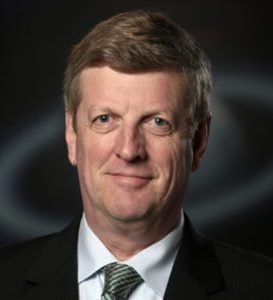 Senior Vice President – Strategic & International Affairs
As Space Foundation Senior Vice President – Strategic & International Affairs, Steve Eisenhart is principally responsible for the Space Foundation's global strategy, as well as the organization's relationships with international space agencies and organizations, foreign embassies, and U.S. organizations involved with global space programs. He is directly responsible for the program development and integration of key Space Foundation activities, including the annual Space Symposium and the New Generation Space Leaders program.
Steve is currently a member of the Advisory Board of the Space Generation Advisory Council in Support of the United Nations Programme on Space Applications, representing global university students and young space professionals to the United Nations, space agencies, industry, and academia. He is also on the editorial board of New Space: The Journal of Space Entrepreneurship and Innovation, the only international peer-reviewed journal dedicated to academic, industry, and government contributions to space entrepreneurship and innovation.
Steve serves on the Colorado Advisory Committee of the U.S. Global Leadership Coalition, an influential network of 500 businesses and organizations to build a better, safer world. He is co-chairman for the International Space Symposium on Peaceful Use of Space Technology (Health), focusing on the development and application of space technology in promoting social and economic development with a focus on health. Eisenhart is also Private Sector Advisor to the U.S. Delegation to the United Nations Committee on the Peaceful Uses of Outer Space.
Since joining the Space Foundation in 1996, Eisenhart has had a broad range of responsibilities, variously serving as Senior Vice President of Strategic Communications, Director of Communications and Public Affairs, and Communications Manager. Prior to that, Steve was a military Public Affairs Officer and he is a graduate of the United States Military Academy.