Leadership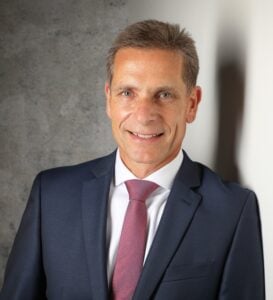 Head of Global Business Space Exploration, Airbus Defence and Space
Wolfgang Duerr is Head of Global Business Space Exploration and Deputy Head of Institutional Space Business at Airbus Defence and Space, located in Bremen, Germany.
His area of responsibility includes close collaboration with European and International Space Agencies, Academia, Governmental/Non-Governmental Organizations, and the global space Industry.
He is President of Euro2Moon, a Luxemburg-based non-profit industry association, founded in 2021 by Airbus, Air Liquide, and iSpace, dedicated to position Europe in the rising cis-lunar economy and to support the definition of international standards for a coordinated approach.
He is Chairman of the Space Security Committee of the German Aerospace Association (BDLI), and represents the German Space Industry in dedicated working groups and national delegations of the German Ministry of Economics and Ministry of Defence.
Prior to his current position, he was the Head of Key Account Management Space Germany at Airbus Defence and Space. From 2015 to 2018, he served as Senior Vice President Director Space and Senior Advisor Space at Airbus North America/Airbus Defense and Space Inc. in Washington D.C. He represented Airbus Group in the Board of the German American Business Council (GABC) from 2015-2019. Before moving to the U.S., he held the position of Vice President Security & Defence Space Germany at Airbus Defence and Space and at EADS Astrium.
Wolfgang Duerr began his professional career in 1984 as a Telecommunication Technician. He joined the German Air Force/Luftwaffe as an Officers Cadet in 1988. He served in several operational assignments in the Air Battle Management/Air Command & Control Branch, held national/international staff assignments, and posts as a Squadron and Deputy Wing Commander.
He graduated from the USAF Air Command and Staff College in 2005 as a distinguished graduate, awarded with the Brigadier General Robbie Risner International Officers Leadership Award for outstanding professionalism, leadership and academic achievement. He served as a General Staff Officer at the Air Staff/German Air Power Center before retiring from active duty in 2008. He is still an Officer of the Reserve Corps in the rank of Colonel, and currently assigned as the Chief of Staff German Armed Forces Command USA/Canada in Reston, VA.
Wolfgang Duerr holds a degree in Electrical Engineering from the University of the German Armed Forces Munich, and a Master of Military Operational Art and Science, from the Air University of the USAF Montgomery, AL. He received several awards during his distinguished military career, including the Cross of Honor of the German Armed Forces. He was nominated by the Chancellors Office for the Senior Leadership Course (SP12) of the Federal Academy for Security Policy in Berlin, from which he graduated in 2012.
He was born on May 26, 1968 in Reutlingen, Germany.