Destination: Bold Opportunity
We Want You to Be Part of the New Space Economy!
The Space Foundation established a nationwide Space Commerce Entrepreneurship Program to promote the expansion of business into space-based technology markets.  The initial program was funded by a grant from the U.S. Department of Commerce / Minority Business Development Agency (MBDA) focused on minority business enterprises, but has recently been expanded to include all business/entrepreneur sectors, including both women-owned and veteran-owned businesses.
The program includes: On-site Workshops; Online Webinar / Speaker Series; Formal and Informal Mentorship and Networking
2018 GLOBAL SPACE ACTIVITY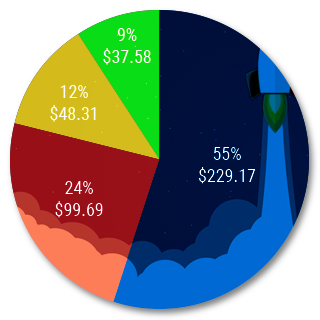 Commercial Space Products and Services


Commercial Infrastructure and Support Industries


Non-U.S. Government Space Budgets


U.S. Government Space Budgets
Total: $414.75 Billion
© Space Foundation
Fast Facts About The Global Space Economy
The space market grew 9% from 2017 to 2018.
Big growth areas are in product and service delivery (e.g., software, app development, data, etc.).
Commercial space sector accounted for 80% of the global space market.
* Since 2005, as traditional space companies have continued development and many new commercial space initiatives have gained momentum, total global space revenues have more than doubled, growing 162%.
SPACE COMMERCE BUSINESS GROWTH WORKSHOPS
The Space Foundation is hosting one-day training workshops nationwide to promote business growth into space-based technology markets. These workshops provide key insights to address the most common challenges companies face and assist with emerging opportunities in the enterprise of space commercialization. The sessions will help close the gap on the specific issues keeping you from growing and expanding your company, and they will deliver the tools necessary to set up your company for success.
Hosting Workshops Across The Nation
DENVER, CO
COMPLETED
LOS ANGELES, CA
COMPLETED
HOUSTON, TX
COMPLETED
EL SEGUNDO, CA
COMPLETED
DAYTONA BEACH, FL
COMPLETED
WASHINGTON D.C.
COMPLETED
HUNTSVILLE, AL
COMPLETED
ORLANDO, FL
COMPLETED
YOUNGSTOWN, OH
COMPLETED
*MORE COMING SOON.
Over the past year The Space Foundation has partnered with multiple regional and local organizations across the country to provide a set of resources for businesses (often in disadvantaged communities) to successfully participate in the commercial space industry and its related sectors.
Program Highlights Include:
9 on-site workshops in 9 different cities
275+ entrepreneurial and small business owners attended onsite training workshops
15 videos available online to assist businesses in the growing space market.
18 minority scholarships awarded to attend the Space Symposium
SPACE COMMERCE WEBINAR AND SPEAKER SERIES
An informative and engaging series of speaker events and webinars produced by the Space Foundation. We'll cover topics to include: Space in Our Lives, Growing Your Business, Access to Growth Capital, Mining for Customers, Managing in the Aerospace Industry, Space Commerce in the Future, and more!
WE CAN'T DO IT WITHOUT YOUR HELP!
Help the Space Foundation promote the expansion of business into space-based technology markets