Space Foundation News
---
Space Foundation Participates in Space Exhibit
Written by: Space Foundation Editorial Team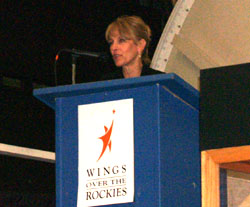 COLORADO SPRINGS, Colo. (Jun. 30, 2007) — Space Foundation President and CEO Elliot Pulham and other team members attended the opening of a new space-themed exhibition at the Wings Over the Rockies Air and Space Museum in Denver, Colo., on June 29, 2007. The ceremony and reception for the exhibit entitled "Space Adventures" featured opening remarks by Colorado's Lt. Gov. Barbara O'Brien (pictured). Former astronauts Adm. Dick Truly, USN (Retired) and Lt. Col. Duane "Digger" Carey, USAF (Retired) participated, answering questions and signing autographs. The Colorado aerospace community, including representatives from Lockheed Martin and United Launch Alliance, also showed their support through participation in the opening and sponsorship of the exhibit.
In addition to movies, toys, and artifacts, the exhibition features hands-on, educational activities, including building and flying rockets in the museum's 90-foot-high gallery space.
The Space Foundation contributed an exhibit highlighting the practical benefits of space technology as exemplified by the Certified Space Technology Program. Examples of down to Earth space technologies include those of leading Certified Space Technology program partners Tempur-Pedic Swedish Sleep Systems, X-1R Advanced Lubricants, Eagle Eyes High Performance Eyewear, Outlast Technologies Phase Change Materials, and others. Additional information about "Space Adventures" and Wings Over the Rockies is available at www.WingsMuseum.org.
---
Posted in Space Foundation News