Space Foundation News
---
Space Technology Awareness Programs Highlighted at NASA Conference
Written by: Space Foundation Editorial Team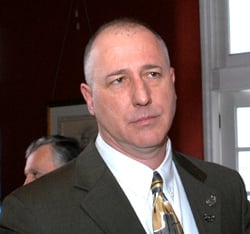 COLORADO SPRINGS, Colo. (Jul. 30, 2007) — Space Foundation Director of Space Technology Awareness Kevin C. Cook recently attended and spoke at the NASA Innovative Partnership Program Quarterly Review in Cleveland, Ohio. This conference focused on the expanded development, application, and dissemination of life improving technologies spawned by our continued exploration of the cosmos. Participants included representatives from NASA Headquarters, NASA Centers, and contractors. The three day conference was held at and included a tour of the NASA Glenn Research Center.
Cook gave presentations on the Space Foundation's Space Technology Hall of Fame, which will celebrate its 20th Anniversary in 2008, and Space Certification programs. Both programs, created by the Space Foundation in cooperation with NASA, work to raise awareness and understanding about the significant and practical benefits of technologies originally developed for the space program that have been adapted into products and services that improve life on Earth.
More information about the Space Technology Hall of Fame is available at www.SpaceTechHallofFame.org. To learn more about space technologies that improve life on Earth – visit the Space Certification Program online at www.SpaceConnection.org.
---
Posted in Space Foundation News