Spotlight
---
Commander Delivers Closing Keynote
Written by: developer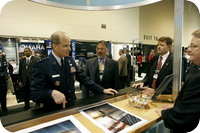 Strategic Space and Defense 2008 ended strong with the closing remarks of Gen. Kevin P. Chilton, USAF, commander, U.S. Strategic Command (USSTRATCOM). The general thanked the Space Foundation and Space News, industry representatives, and international partners for the support they provide USSTRATCOM, and urged further international participation at the conference in future years.
The commander's remarks covered the wide range of space. He congratulated NASA on its 50th anniversary and recognized the impact of NASA on the strategic environment. He stated leadership in manned and unmanned spaceflight is essential to keeping the United States at the forefront of technology and admiration around the world.
The general spoke about recent space developments such as the historic SpaceX launch to orbit of the first privately-developed rocket and the first Chinese spacewalk. He also discussed the U.S. shootdown of a failing NRO satellite and commented that it put USSTRATCOM in the unusual position of being supported by other commands instead of providing support. For the future, he assured access to space is a major concern, saying that, even with a string of 58 successful launches, there will be a failure at some point and having a contingency plan in place is necessary.
This article is part of Space Watch: October 2008 (Volume: 7, Issue: 10).
---
Posted in Spotlight