Spotlight
---
Program Highlights from Strategic Space and Defense 2008
Written by: developer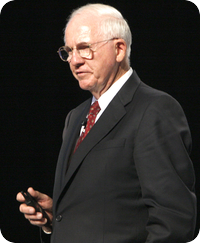 The Strategic Space and Defense 2008 program agenda featured top U.S. Strategic Command, Department of Defense, USAF Headquarters, allied partners, and industry leaders addressing a range of topics concerning the Command and its missions.  Themes of integration among services, the significant role of allies, the need for agile acquisition, the critical need for space situational awareness and assured access, and the prospect of hosted payloads on commercial satellites echoed through the panels and speakers' presentations.
In his opening keynote, Vice Adm. Carl V. Mauney, USN, deputy commander, U.S. Strategic Command emphasized the importance of dialogue on matters of space security between the United States and other space-faring nations to reduce uncertainty about intentions behind certain actions. He also encouraged dialogue between industry and government to improve the acquisition process.  Drawing on his experience as a submariner, Mauney cited some specific examples of the value of space assets as a means of force protection.
Dr. Peter Wegner, director of the Operationally Responsive Space Office, provided an update of activities that included a time lapse film demonstration of new "plug and play" satellite construction and configuration.  The small satellite constructed in the video was completed in approximately four hours. 
Intelsat CEO Mr. David McGlade delivered the conference's Industry Keynote, calling for the military to reconsider how it plans for and buys access to satellite services, and warning that changes in the commercial satellite market challenge the status quo, largely due to the explosion in demand for bandwidth among developing nations.
Unique to the program was a presentation by Mr. A. Thomas Young, who provided the first public briefing of the results of the Independent Assessment Panel on National Security Space.  The congressionally mandated panel recommended the establishment and execution of a national space strategy among its findings.
Additional featured speakers included Lt. Gen. William L. Shelton, USAF, commander, 14th Air Force (Air Forces Strategic), Air Force Space Command and commander, JFCC-Space, U.S. Strategic Command; Lt. Gen. Kevin T. Campbell, USA, commander, Space and Missile Defense Command, ARSTRAT and commander, JFCC – Integrated Missile Defense; Maj. Gen. Thomas F. Deppe, USAF, vice commander, Air Force Space Command; and Mr. Gary E. Payton, deputy Under Secretary of the Air Force, space programs, United States Air Force Headquarters.
This article is part of Space Watch: October 2008 (Volume: 7, Issue: 10).
---
Posted in Spotlight