Spotlight
---
Space Watch Celebrates Successful Strategic Space and Defense 2008
Written by: developer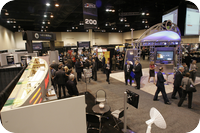 Strategic Space and Defense 2008, the global security conference for space and defense professionals, was a splendid success. This special edition of Space Watch celebrates the program, the exhibit center, the educational outreach to the community, and most importantly, the experience of the numerous attendees.
Presented by the Space Foundation and Space News and supported by U.S. Strategic Command, Strategic Space and Defense 2008 took place at the Qwest Center Omaha Convention Center and Arena in Omaha, Neb from 6-8 0ctober.  More than 2,000 individuals, representing more than 240 companies and organizations, participated in various aspects of the two-day conference which brought together the foremost military, defense industry, and government leaders to discuss the most pressing issues facing the space industry today. In addition to the two Members of Congress on the agenda, there were more than 20 flag officers in attendance and more than 30 senior military officers representing half a dozen partner nations.  Clear support for the event and interaction from the commander and U.S. Strategic Command were visibly apparent during the sessions and at all the networking events. 
 
In addition to the senior leadership of the U.S. Strategic Command and its component and supported commands, representatives of the national security industrial base, major government contractors, federal officials, allied partners, Nebraska state government, and local school children all visited the nearly 10,000 square foot exhibit center, representing 40 companies and organizations .
This article is part of Space Watch: October 2008 (Volume: 7, Issue: 10).
---
Posted in Spotlight