Spotlight
---
25th National Space Symposium Opening Ceremony Wows the Eyes, Ears, Hearts and Minds of SRO Audience
Written by: developer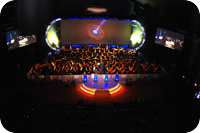 Viewed by a standing-room-only crowd, the Opening Ceremony of the 25th National Space Symposium was a breathtaking amalgam of sight, sound, and celebration of space achievement.
Featuring the Colorado Springs Philharmonic, the Colorado Spring Chorale, local vocalist Crystal Bliss and aerialist Christine Van Loo, the March 30 program featured stunning space video and photography set to music from popular space epics, ranging from "E.T. The Extra-Terrestrial" and "Apollo 13" to the Star Wars and Star Trek motion pictures.
The musical performances were integrated with presentation of prestigious Space Foundation Awards: The Alan Shepard Technology in Education Award to Ricardo V. Soria, assistant principal of Choctawahatchee High School in Fort Walton Beach, Fla.; the Douglas S. Morrow Public Outreach Award to astrophysicist and author Neil deGrasse Tyson, Ph.D.; the Space Achievement Award to China's Shenzhou 7 Mission; and the John L. "Jack" Swigert, Jr., Award for Space Exploration to the Phoenix Mars Lander Team.
Shortly after the symposium, the Colorado Springs Philharmonic performed a public concert in Colorado Springs featuring space music, some of the video used during the opening ceremony, and conductor Thomas Wilson attired in a NASA flightsuit for the first part and Star Fleet captain's garb for the second part.
This article is part of Space Watch: April 2009 (Volume: 8, Issue: 4).
---
Posted in Spotlight