Spotlight
---
Personal Spaceflight Spawns Suborbital Spaceports
Written by: developer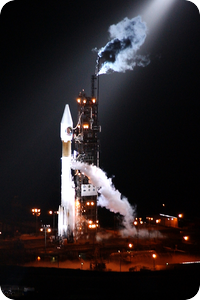 Based on information excerpted from The Space Report 2009: The Authoritative Guide to Global Space Activity.
With the growing interest in personal spaceflight, several locations have been suggested for future suborbital spaceports. Since most of these proposed spaceports are still in early stages of conceptual development, here is a summary of two suborbital spaceport proposals in more advanced phases of development.
Blue Origin Launch Site, Texas
This West Texas launch site is distinguished by its location on private property and the relative lack of publicity surrounding its activities. Blue Origin, a space launch company established by Amazon.com founder Jeff Bezos, proposes to launch its own reusable launch vehicle on suborbital, ballistic trajectories to altitudes in excess of 100 kilometers (62 miles). In November 2007, Blue Origin reported that its second suborbital spaceship was undergoing construction at its R&D facility in Kent, Wash., with a third vehicle also reported to be in development. There was no publicly announced launch site activity in 2008 or 2009.
Singapore Spaceport, Singapore, and Ras Al-Khaimah, United Arab Emirates
Private spaceflight company Space Adventures has proposed the creation of two suborbital spaceports, one in Singapore and the other in Ras Al-Khaimah, in the United Arab Emirates. Planning for the Singapore Spaceport, located near the Changi airport, is in a more advanced stage, as the spaceport received a certification from the Civil Aviation Authority of Singapore in 2006.
CURRENT SUBORBITAL SPACEPORTS
Several factors determine the type of missions suborbital spaceports can support, including infrastructure limitations such as a lack of complex launch pads and ground equipment, or geographic restrictions such as an inadequate buffer area between their facilities and populated areas.
California Spaceport (pictured)
The first commercial spaceport licensed by the Federal Aviation Administration, the California Spaceport is co-located at Vandenberg Air Force Base. Operated and managed by Spaceport Systems International, the facility offers commercial launch and payload processing services. In September 2008, Orbital Sciences announced that it had completed preparations for rocket assembly, ground tests, and launch of the Minotaur IV. The inaugural flight of this launch vehicle is scheduled to take place in 2009 at the California Spaceport's launch pad.
Spaceport America, New Mexico
The June 19 groundbreaking for Spaceport America, located in southern New Mexico north of Las Cruces on the outskirts of the White Sands Missile Range, was a major step forard for the New Mexico state legislature-funded endeavor. The $198 million Spaceport is being developed for use by a range of organizations conducting commercial space activities, including private companies and government agencies. Through the New Mexico Spaceport Authority, the state owns and operates the spaceport and leases its facilities to users. In December 2008, the FAA granted a launch permit to Spaceport America and the Spaceport formalized a deal with the Rocket Racing League and Armadillo Aerospace to use the facility as a launch center. Virgin Galactic signed a 20-year lease agreement with the State of New Mexico to use the spaceport as the company's headquarters and primary launch site.
Mojave Air and Space Port, California
Located in Mojave, Calif., the Mojave Air and Space Port in 2004 became the first inland launch site licensed by the FAA to support suborbital launches. That same week, Mojave Spaceport was the launch site for Virgin Galactic's SpaceShipOne, the first privately funded aircraft to take a human into space. In July 2008, Scaled Composites and Virgin Galactic unveiled the WhiteKnightTwo, the carrier aircraft for the SpaceShipTwo commercial suborbital spacecraft, at Mojave Spaceport.
Esrange Space Center, Sweden
Esrange is a small spaceport located near Kiruna in northern Sweden. It was founded in 1964 by the European Space Research Organization and in 1972 was transferred to the Swedish Space Corporation. Thus far, only suborbital rockets and high altitude balloons have been launched from Esrange. In 2008, Virgin Galactic and Esrange announced they were considering using the site to conduct suborbital personal spaceflight launches.
For more on current and proposed orbital spaceports see the June issue of the Space Foundation's Space Watch. The Space Report 2009: The Authoritative Guide to Global Space Activity may be purchased as a CD or e-book at www.TheSpaceReport.org.
This article is part of Space Watch: July 2009 (Volume: 8, Issue: 7).
---
Posted in Spotlight