Spotlight
---
Space Command Leader is Featured Speaker
Written by: developer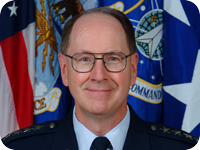 As a featured speaker at the 26th National Space Symposium, Gen. C. Robert Kehler, USAF, commander, Air Force Space Command, will bring his perspectives on national security, cyberspace, and issues confronting the U.S. Space Command.
Gen. Kehler is responsible for organizing, equipping, training and maintaining mission-ready space, cyberspace and missile forces and capabilities for North American Aerospace Defense Command, U.S. Strategic Command, and other combatant commands around the world. Based at Peterson Air Force Base in Colorado Springs, Colo., Gen. Kehler oversees Air Force network operations; manages a global network of satellite command and control, communications, missile warning and launch facilities; ensures the combat readiness of America's intercontinental ballistic missile force; and is responsible for space system development and acquisition. He leads more than 43,000 professionals, assigned to 86 locations worldwide and deployed to an additional 35 global locations.
Gen. Kehler entered the Air Force in 1975 as a distinguished graduate of the Air Force ROTC program. He has commanded at the squadron, group, and wing levels, and has had a broad range of operational and command tours in ICBM operations, space launch, space operations, missile warning, and space control. He commanded a Minuteman ICBM operations group at Whiteman AFB, Mo., and the Air Force's largest ICBM operations group at Malmstrom AFB, Mont. He served as deputy director of operations, Air Force Space Command; and commanded both the 30th Space Wing at Vandenberg AFB, Calif., and the 21st Space Wing, Peterson AFB. Most recently, as deputy commander of the U.S. Strategic Command, he helped provide the President and secretary of defense with a broad range of strategic capabilities and options for the joint warfighter through several diverse mission areas, including space operations, integrated missile defense, computer network operations, and global strike.
The general's staff assignments include wing-level planning and tours with the Air Staff, Strategic Air Command headquarters and Air Force Space Command. He was also assigned to the secretary of the Air Force's Office of Legislative Liaison, where he was the point man on Capitol Hill for matters regarding the President's ICBM Modernization Program. As director of the National Security Space Office, Gen. Kehler integrated the activities of a number of space organizations on behalf of the under secretary of the Air Force and director of the National Reconnaissance Office.
Gen. Kehler holds a bachelor's degree in education from The Pennsylvania State University, a master's degree in public administration from the University of Oklahoma, and a master's degree in national security and strategic studies from the Naval War College. He has been awarded the Distinguished Service Medal, the Defense Superior Service Medal, the Legion of Merit with two oak leaf clusters, the Defense Meritorious Service Medal, the Meritorious Service Medal with three oak leaf clusters, and the Air Force Commendation Medal.
 For more information on the 26th National Space Symposium, click here.
This article is part of Space Watch: December 2009 (Volume: 8, Issue: 12).
---
Posted in Spotlight