Report from Headquarters
---
AGI Funds Missions Simulator
Written by: developer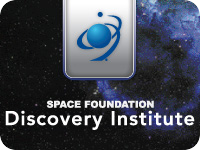 A generous donation from Analytical Graphics, Inc. (AGI) has launched a new space education lab in Colorado Springs – the AGI Space Missions Simulator at the Space Foundation Discovery Institute.
AGI, headquartered in Exton, Pa., donated software, licensing, and new computer equipment valued at more than $3 million to establish the education lab, which will simulate launch, flight, and landing of a variety of space missions. The lab will run AGI's STK, Orbit Determination Tool Kit (ODTK) and STK/Astrogator software, which will allow students and teachers to learn about satellite orbits, design their own satellite orbits, track their satellites, and, eventually, help plan a simulated return mission from Mars. The lab will also be the mission control center for future labs and mission scenarios that will take place in adjacent labs at the Space Foundation Discovery Institute.
The Space Foundation Discovery Institute opened last summer on the campus of the Jack Swigert Aerospace Academy in Colorado Springs. It provides space- and aerospace-themed professional development, training, and support for teachers and students from around the world and serves as the base location for the Space Foundation's education programs.
"AGI is honored to be part of this exciting new opportunity to educate the next generation of space enthusiasts," said AGI CEO Paul Graziani. "We applaud the Space Foundation for the important work it has done over the years, and look forward to the success of the new space education lab."
The Space Foundation's nationally recognized standards-based education programs use space themes and principles to build proficiency in and enthusiasm for STEM (science, technology, engineering, and mathematics) subjects among teachers, students, parents, and communities. The goal is to strengthen STEM skills so that today's students can go on to become scientists, engineers, mathematicians, teachers, and supporters of space exploration.
In addition, the Space Foundation Discovery Institute provides targeted professional development, onsite teacher support, and student programs for Jack Swigert Aerospace Academy, a Colorado Springs public middle school that opened August 2009 with an aerospace-based curriculum. The Academy, a joint project between Colorado Springs School District 11 and the Space Foundation, is named in honor of Colorado native and Apollo astronaut John L. "Jack" Swigert.
This article is part of Space Watch: Februrary 2010 (Volume: 9, Issue: 2).
---
Posted in Report from Headquarters