Spotlight
---
Podcast Previews SSA/Debris Panel
Written by: developer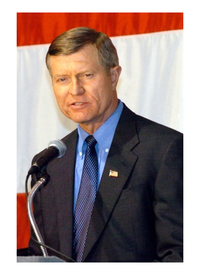 Space author William B. Scott can be heard on a podcast on www.w3w3.com discussing the Critical Issues – Space Situational Awareness & Space Debris panel he will be moderating at the upcoming 26th National Space Symposium.
Interviewed by broadcaster Larry Nelson, Scott discusses the issues the panel will cover: the proliferation of space debris and the challenge of keeping abreast of space activity that could pose national security threats. Plus, he talks about his newest book, Counterspace: The Next Hours of World War III (co-authored with Michael J. Coumatos and William J. Birnes), in which space situational awareness is a major plot component.
Scott is a former Rocky Mountain Bureau Chief for Aviation Week & Space Technology magazine. During his 22 years with the publication, he also served as senior national editor, avionics editor and senior engineering editor. He has two additional books: Space Wars: The First Six Hours of World War III (also written with Coumatos and Birnes) and Inside the Stealth Bomber: The B-2 Story. In 12 years of military and civilian flight testing, plus evaluating aircraft for Aviation Week, he has logged approximately 2,000 flight hours on 80 aircraft types.
The 26th National Space Symposium, the premier gathering of the global space community, will be held April 12-15 at The Broadmoor Hotel in Colorado Springs, Colo. For more information, click here.
This article is part of Space Watch: March 2010 (Volume: 9, Issue: 3).
---
Posted in Spotlight