Spotlight
---
Secretary Donley to Speak at Symposium
Written by: developer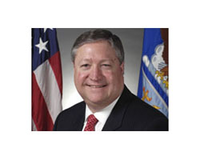 Secretary of the Air Force Michael B. Donley will be the featured speaker at the Corporate Partnership Dinner the second evening of the 26th National Space Symposium.
The Corporate Partnership Dinner recognizes the companies and organizations that support, sponsor, and partner with the Space Foundation, which hosts the Symposium. The Boeing Company is co-sponsoring the dinner and Roger Krone, president of Network and Space Systems for The Boeing Company, will serve as dinner host. Intelsat General Corporation is co-sponsoring the Corporate Partnership Cocktail Reception before the dinner.
"The Corporate Partnership Dinner is our opportunity to express appreciation to the organizations that make Space Foundation education, policy, and space awareness programs, including the National Space Symposium, possible," said Space Foundation Chief Executive Officer Elliot Pulham. "What better way to say 'thank you' than with a speaker as influential and compelling as Secretary Donley?"
Donley has more than 27 years of experience in the national security community, including service on Senate, White House, and Pentagon staffs. During his career, he has been involved in strategy and policymaking at the highest levels and is a recognized expert in national security organization, planning, and budgeting. Sworn in as secretary of the Air Force in October 2008, he is responsible for organizing, training, equipping, and providing for the welfare of more than 300,000 men and women on active Air Force duty, 180,000 members of the Air National Guard and the Air Force Reserve, 160,000 civilians, and their families. He also oversees the Air Force's annual budget of approximately $110 billion.
Previously, Donley served as director of administration and management for the Department of Defense Organizational and Management Planning group. He has served as senior vice president at Hicks and Associates, Inc., a subsidiary of SAIC; senior fellow at the Institute for Defense Analyses; acting secretary of the Air Force and assistant secretary of the Air Force (Financial Management and Comptroller); and deputy executive secretary and director of Defense Programs for the National Security Council. He holds both bachelor's and master's degrees in international relations from the University of Southern California and served three years in the United States Army with the XVIIIth Airborne Corps and 5th Special Forces Group (Airborne).
The 26th National Space Symposium will be held April 12-15 at The Broadmoor Hotel in Colorado Springs, Colo.
 
This article is part of Space Watch: April 2010 (Volume: 9, Issue: 4).
---
Posted in Spotlight