Spotlight
---
Historic NRO Gathering at Space Symposium
Written by: developer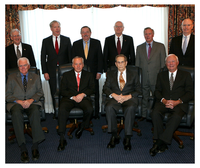 The 26th National Space Symposium made history with the appearance of the current director of the National Reconnaissance Office (NRO) and the nine living former directors of the NRO. Current director, Gen. Bruce A. Carlson, USAF (Retired), spoke on April 14, and the former directors participated in a forum on April 15. Plus, the entire group gathered for a breakfast where they shared stories and signed commemorative documents that will hang at both the NRO and Space Foundation headquarters.
Carlson Speaks About Space and Cyberspace: Common Ground
Director Carlson discussed his view that there is significant common ground between space and cyberspace, noting that the NRO's communications and computer network are essential for turning data into usable intelligence.
In explaining the NRO's role in space and cyberspace, he outlined his agency's priorities:
Execute scheduled launches – the most aggressive NRO launch schedule in 25 years – on time and on budget
Improve the business of launch, which currently lacks back-up capability and redundancy, and has no new engines
Improve investment in science and technology to prevent erosion of the science and technology base
Invest in the NRO workforce, including a small number of hires and a program that offers graduating seniors an 18-month position at NRO, after which they go into a masters' program
Carlson said that cyberspace is "not an enabler; it's job one" because NRO mission success depends on collection in space followed by tasking, processing, exploitation, and dissemination in cyberspace. "We want to expand access to the data that we get from space," said Carlson. "We can transmit in seconds to users around the world, but we've got to improve the content and figure out ways to combine data from many sources to provide 'a picture with a dot.'"
According to Carlson, the NRO's job is to turn data into actionable intelligence, which means that timeliness is essential.
NRO Directors' Forum Looks at Past, Present, Future
Moderated by William F. Ballhaus, Jr., Ph.D., chairman of the Space Foundation Board of Directors and former president and CEO of The Aerospace Corporation, the NRO Directors' Forum featured the following, listed with the years they headed the NRO:
Mark spoke briefly about his history with the NRO, which began in 1960 when he flew payloads on Corona, a polar-orbiting satellite that was the first to measure the diffuse x-ray spectrum. "I've spent the past 20 years as a professor of engineering, and I'm upset by the decline in quality in the people now going into the profession," said Mark. "I hope that we, as a group, could make the public aware of how much we depend on competence in engineering."
During Hermann's term at the NRO, satellites began to take over some roles from aircraft, which caused some difficulties. "The NRO, NSA, and Navy agreed to jointly fund a national program where tactical support is primary," he said.
Aldridge noted that despite criticism that NRO has become a little too bureaucratic, he believes it's a very efficient organization. During his tenure, he said that he had faced four primary challenges:
How to apply funds to solve problems because there was more money than ideas for technology
Survivability as reliance on space increased
Fixing a defective launch program
Unhealthy competition between program offices within NRO
"Co-location of the program offices was the solution," Aldridge said.
Faga said that during the Gulf War, satellites began to contribute tactical applications and systems became real-time and less classified. "Precision-guided weapons and real-time reconnaissance were integral to success," he said.
During his tenure, Faga moved NRO program offices to Washington, D.C., and declassified the agency, saying, "We helped prevent the cold war from becoming a hot war; this really matters."
Harris said that the NRO is frequently challenged that it's a cold war relic, but that, increasingly, the NRO helps to address complex problems such as terrorism and asymmetric warfare. "The NRO is critical lynchpin in developing intelligence we need today," he said. "We must get the military-industrial thing right; We need to continue our leadership in space."
Hall, who said he "arrived at a time of controversy," addressed three main objectives:
Developing an accounting system that eventually become the best at financial accounting in the government
Improving "bedside manner" by setting up mission partners; changing the nature of relationships; and setting aside resources to benefit national users
Focusing on preparing for the future, including increasing funding
Noting that the National Space Policy review is underway, Hall said he hopes that it "acknowledges the importance of space assets to us and our allies."
Shortly after Teets took office, the Rumsfeld Commission recommended that one person be in charge of national security space for both DoD and NRO. The first issue the combined function addressed was cost and schedule problems on NRO imagery architecture programs, which were eventually terminated. "We have to find a way for program managers on leading-edge programs to have instantaneously available management reserve," said Teets. "We need an independent review to understand how much management reserve is needed so we can get it upfront."
Kerr said that his challenge was being in charge of an organization with "no ground systems and no employees" during a time when the U.S. was fighting two wars. Responsible for ensuring a strong satellite constellation, he bought on a commercial basis, which he said, "set a good precedent." He added that it is "important to support the fragile industrial base," which he did by procuring a long-term constellation. Reflecting on today's environment, he said, "We need to keep the vibrant nature of the NRO in carrying out its missions."
Large noted that, in the past decade, there were many changes and a great deal of pressure to create and define an enduring future strategy. Today, Large said, the "men and women of the NRO are fully unified." He also said that systems engineering, the "hallmark of the NRO, allowed us to do some of the spectacular things we do."
After brief remarks, the panel answered questions:
Has the NRO has "lost the recipe" and how it can get it back?
Hermann: "the 'recipe' from earlier times is not easy to get agreement on because the nature of threat was different (threat from USSR). An accountability-based business process would be better than a requirements-based business process, which would allow executives to do their jobs without being forced into corners by a non-functioning requirement process."
Do you agree that there's a lack of quality engineering graduates?
Mark: "High schools are where the central problem is. The students are not stupid, but they have not been challenged. Students should start difficult technical classes early in high school with retired engineers teaching advanced courses."
Was getting rid of program offices the right thing to do?
Aldridge: "Co-location was a way to avoid the winner-loser syndrome, but I still worry about the personnel."
Faga: "The reason for doing it goes to history of NRO: early systems had very narrow focus, but, by 1990, technology and programs overlapped."
With the rotation of NRO employee, how do you build expertise?
Teets: "It's Important for others to send top-rate people to the NRO so we can create a cadre of true space professionals."
A solid systems engineering process is critical, and long-term architecture is important — how do they work together?
Kerr: "Grand vision of architecture has to be translated into detailed systems engineering. We must work on providing individuals with engineering skills at a high level and teach them some business skills. The key is to get experienced people to come back and teach undergraduates and show the relationship between engineering and business."
What are the challenges of gathering and disseminating data in current environment?
Faga: Systems are not just cold war legacies. People in the field are using existing systems; they need high-quality imagery."
We're entering an era of reduced budgets but the threat level remains — what are the implications for the NRO?
Carlson: "We simply have to build on cost and on schedule, and weed out the requirements we can't afford."
The Forum concluded by discussing the toughest challenges the NRO will face over the next few years:
Mark: "Getting better people — failures in large systems have been larger today than 20-30 years ago."
Hermann: "Investing in longer-term future; there's an executive responsibility to put forth ideas consistent with vision of what should be done."
Aldridge: "Credibility of the acquisition process."
Faga: "It's a 'chicken and the egg' issue: all the problems of the NRO will go away when people let it do its job."
Hall: "Allocating brainpower and effectively delivering tools to keep nation in lead."
Teets: "Getting the necessary financial resources to keep it the leading edge organization it is now."
Large: "Getting a clear expectation of NRO from DNI and allowing the NRO to execute that mission."
Pictured: Back, left to right, Martin Faga, Jeffrey Harris, Keith Hall,  Peter Teets, Donald Kerr, Scott Large; front, left to right, Hans Mark, Bruce Carlson, Robert Hermann, Edward Aldridge
 
This article is part of Space Watch: May 2010 (Volume: 9, Issue: 5).
---
Posted in Spotlight