Spotlight
---
NASA is Double Symposium Topic
Written by: developer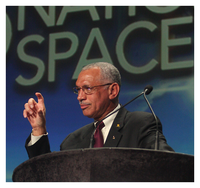 NASA's budget and future direction was the topic of two presentations at the 26th National Space Symposium last month. NASA Administrator Maj. Gen. Charles F. Bolden, Jr., USMC (Retired), kicked off the main agenda on April 13 and, later that day, a panel discussed the future of the agency.
Transformation is Bolden's Focus
Bolden focused his remarks on change, saying that NASA is on a "transformative path that opens a real future" and will make it possible to "put boots on Mars." Discussing the agency's "hard choices about our future in space," he said, "We do want to go back to the moon, asteroids, and Mars itself…" and, with that eventual destination in mind, "we'll develop technologies that will bring many new benefits — propulsion systems, habitats, fuel depots in space."
Bolden said that NASA plans to work with industry to develop transportation to orbit, as soon as possible. He said that the agency will start with a near-Earth mission, then explore deep space, and eventually explore the Moon and Mars. "These efforts will engage a new generation of space entrepreneurs; NASA will be the catalyst of a global space exploration movement." The difference, he said, is that government blazed the path to low earth orbit, but, now, this new opportunity is being opened to industry.
Discussing the International Space Station (ISS), he said that full utilization will give the nation enormous payback on our investment: it helps us learn more about what is needed to send humans into space; and we've gained knowledge about agriculture, the behavior of viruses, and the heart and other human systems. Prolonging the life of the ISS will create new research products, businesses, and industries.
Bolden said that NASA wants to include industry, international partners, and academia to develop "game-changing" technologies. "This allows NASA to return to its roots – spurring innovation and private industry," he said.
Bolden said that NASA planning teams are currently laying out details and, in the coming months, will release more information on specific missions"
To see Bolden's complete remarks, click here.
Panel Looks at the "Way Ahead"
Lon Levin, treasurer, Space Foundation Board of Directors, moderated the NASA – The Budget and The Way Ahead panel, which featured:
Garver said that, while there is disagreement on some of the hows, "everyone agrees on goals: the need to reinvest in critical technologies to allow us to go farther and faster than the previous plan. What we have in front of us is an unprecedented opportunity to restructure and realign NASA."
She said that the President was forced to make difficult choices with the budget, based on the assessment that the current human space program was unsustainable. Pointing out that the proposed budget extends human space flight by extending the ISS, Garver said that NASA believes the new program can leave low-earth orbit sooner than the former plan's 2028 schedule.
Saying that the U.S. is not turning leadership over to the Chinese, Garver said, "we can't have a space program of the past, we have to have one of the future."
Acknowledging that the new plan has an impact on the workforce, DiBello said, "we've always known that the workforce for the spacecraft of the future would be smaller than Shuttle. The community at large recognizes this budget as an opportunity to put the technologies in place for deep space exploration.
"In the near term, with the cancellation of a major program, there will be difficulty for the workforce," said diBello. "We're working on diversifying the Florida work beyond just NASA."
Alexander reported that commercial crew development will create more than 11,000 jobs. "Near-term for Florida will be tough, but long term will be good for the future of NASA and Florida, as well."
Discussing the FAA's roles and responsibilities, Nield said, "NASA pioneers the future in space exploration, the FAA's job is to be the government regulator. If NASA engages private industry, those industries will need FAA licensing."
Pace said the shift from government focus to commercial and technology is on a path of "high risk, possible high payoff," but that implementation has problems, "Civil servants know what they're going to be doing, but contractors don't. It will probably be 2012 before progress starts being made in new areas. I worry about how we're going to get from here to there.
Science is good, the ISS extension is good," he continued, "but the human spaceflight side is in the process of broken."
DiBello said, "Why not $30 billion? We would not have a problem if we were willing to put enough emphasis behind the U.S. space program."
Pace said that the $19 billion is what it would have been if the 2005 budget had been continued. The increase in budget in 2011 is only putting back money that was taken out before; what changed is the portfolio –spending less on exploration and more on Earth science and other areas.
"It's not just a matter of how much money you have, but what your priorities are; exploration seems to be a lower priority," he said.
Garver disagreed, saying, "We did need to re-balance the NASA portfolio, because Constellation had taken money from science and other programs."
When asked what we will do to maintain our critical workforce, Pace said that NASA people should have hands-on experience working on human spacecraft, not just on R&D, but it's really hard to re-shape the NASA workforce.
Nield said that the FAA is trying to address some of these challenges in the industry and
Garver said NASA hopes to address it with workforce training.
DiBello said that there has "probably never been a better time for international collaboration and partnership. Other nations have recognized the power of space as a catalyst for economic well-being. We are seen as an international leader."
Nield added that this will help our industry be more competitive in international markets. "This is also the case for sub-orbital space tourism market," he said "I am convinced that in the next few years, we'll see multiple companies operating on a regular basis."
Pace added that we need to think about how to balance national security and commercial interests, saying that "the first priority needs to be ISS. It's not yet a scientific success — extending for 10 years gives it a chance."
Asked if there a need to resurrect the space council within the White House, Alexander said a space council would be "counterproductive."
Pace said he thought the council was useful in the Bush Administration, but he's skeptical about the value now. "If I were at NASA, I'm not sure I'd want another council telling me what to do."
Nield added that he is "not sure if we need a new lock on the org chart," but that "continued cooperation across the government is important."
Garver said she felt that cooperation across government agencies and commercial is important, "but right now it is working in a very positive way."
 
Pictured: NASA Administrator Charles Bolden, Jr.
This article is part of Space Watch: May 2010 (Volume: 9, Issue: 5).
---
Posted in Spotlight