Spotlight
---
Farnborough International Airshow Activities Set
Written by: developer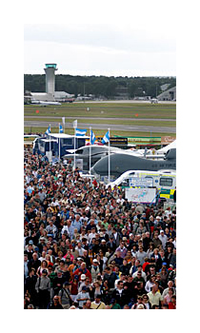 Later this month the Space Foundation will further expand its international outreach with a series of events held in conjunction with the Farnborough International Airshow (FIA) July 19-25 in Hampshire, England:
A small dinner in London, co-sponsored by the Space Foundation and SM&A, that will introduce representatives of the newly formed UK Space Agency to U.S. government officials and industry executives from Space Foundation Corporate Member Companies. Dr. David Williams, acting chief executive of the UK Space Agency, will be the featured speaker.
Informal and formal meetings with U.S. and European aerospace leaders attending FIA.
An official tour of the FIA grounds during "Space Day" on July 21 .
Participation in an Evening Lecture Program at the Royal United Services Institute for Defence and Security Studies (RUSI), featuring Space Foundation CEO Elliot Pulham and Brigadier General John E. Hyten,USAF, director – space acquisition for the Office of the Under Secretary of the Air Force. Pulham will give a brief overview on the state of the global space economy and Hyten will speak about U.S. military space acquisition strategy and about working with our allies.
Held every two years, FIA is a seven-day international aerospace show that demonstrates civilian and military aircraft to potential customers and investors. Like the Paris Air Show and ILA, FIA is an important event for the aerospace industry, particularly for announcing new developments and orders. FIA is organized by Farnborough International Limited, a subsidiary of the Society of British Aerospace Companies (SBAC).
The 2010 event  will include five exhibition halls, an outdoor aircraft static display, aircraft demonstrations, and industry meetings and events. The first five days are restricted to trade attendees; the event is open to the public on the weekend. FIA 2008 broke records with US$88.7 billion worth of orders announced,165 aircraft in static displays and flying displays, and 153,000 visitors. More than 1,300 exhibitors are expected in 2010.
FIA 2010 will include a number of new networking initiatives, including as a themed conference and seminar program, a 'Meet Your Buyer' event , a day dedicated to International Futures for Youth, an enhanced unmanned aerial vehicle (UAV) presence, and a dedicated 'Space Zone."
SM&A, co-sponsor of the dinner, is a privately held management consulting firm, headquartered in Newport Beach, Calif., that provides strategic insight, capture and proposal management consulting, and comprehensive program services solutions to clients representing a range of industries including aerospace and defense, information technology, financial services, healthcare, and emerging markets. It is a leading provider of program management services, business strategy and proposal development services that ensure clients' ability to win competitive procurements.
This article is part of Space Watch: July 2010 (Volume: 9, Issue: 7).
---
Posted in Spotlight