Report from Headquarters
---
Harris Helps Swigert Students at Discovery Institute
Written by: developer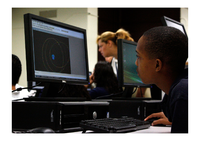 The Harris Corporation celebrated National Aerospace Week (Sept. 12-18) by providing two employees who volunteered their time to work with 180 eighth grade students at Jack Swigert Aerospace Academy in Colorado Springs. The students spent part of one day in the AGI Space Missions Simulator at the Space Foundation Discovery Institute and the next day received a hands-on classroom demonstration about the forces that act on satellites.
By the end of the two days the students had learned about Newton's laws of motion and how the concepts of angular momentum relate to satellites and were able to manipulate SatelliteTool Kit (STK) software to change properties of satellite orbits in space.
Earlier this year, AGI donated software, licensing, and new computer equipment valued at more than $3 million to establish the education lab, which simulates launch, flight and landing of a variety of space missions. The lab runs AGI's STK, Orbit Determination Tool Kit (ODTK) and STK/Astrogator software, allowing students and teachers to learn about satellite orbits, design their own satellite orbits, track their satellites, and, eventually, help plan a simulated return mission from Mars. AGI is based in Exton, Pa.,
The Swigert Academy curriculum, which is collaboratively developed by the Space Foundation and Colorado Springs School District 11, uses space themes and principles to teach a broad range of subjects, with focus on improving students' proficiency in science, technology, engineering and mathematics (STEM).
Space Foundation education programs are based at the Space Foundation Discovery Institute, which opened in 2009 on the campus of the Swigert Academy. The Space Foundation Discovery Institute provides space- and aerospace-themed professional development, training and support for teachers and students from around the world.
About Harris Corporation
Harris is an international communications and information technology company serving government and commercial markets in more than 150 countries. Headquartered in Melbourne, Fla., the company has approximately $5 billion of annual revenue and more than 16,000 employees – including nearly 7,000 engineers and scientists. Harris is dedicated to developing best-in-class assured communications® products, systems and services.
Harris IT Services employees at the Colorado Springs location support one of the company's largest aerospace programs, the $410 million U.S. Air Force Network and Space Operations and Maintenance (NSOM) program. Harris provides operations and maintenance support to the 50th Space Wing's Air Force Satellite Control Network. This global continuously operational network of ground stations, operational control nodes and communications links supports launch and command and control of various space programs managed by the Department of Defense and other national security space organizations.
Additional information about Harris Corporation is available at www.harris.com.
Pictured: Harris Corporation employees help Jack Swigert Aerospace Academy students work in the AGI Space Missions Simulator at the Space Foundation Discovery Institute.
This article is part of Space Watch: October 2010 (Volume: 9, Issue: 10).
---
Posted in Report from Headquarters