Spotlight
---
Astronaut Jim Lovell Honored by Harvard
Written by: developer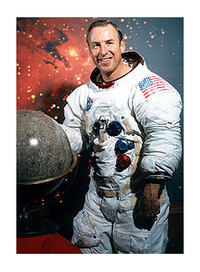 Capt. James A. Lovell, Jr., USN (Retired), honorary Space Foundation board member who flew in both the Gemini and Apollo programs and is best known for commanding the dramatic return to Earth of the ill-fated Apollo 13 mission has added another distinction to his accomplishments. Harvard Business School recently bestowed its most important honor, the Alumni Achievement Award, on Lovell and four other distinguished graduates.
An alum of Harvard Business School's Advanced Management Program, Lovell was also the command module pilot of Apollo 8, the first Apollo mission to enter lunar orbit. Lovell is a recipient of the Congressional Space Medal of Honor and the Presidential Medal of Freedom. He is one of only 24 people to have flown to the Moon, the first of only three people to fly to the Moon twice, and the only one to do so without making a landing. Lovell was also the first American to fly in space four times.
In its announcement, Harvard Business School issued this statement:
James A. Lovell has exemplified leadership skills that became a matter of life or death in April 1970. As the commander of the Apollo 13 mission to the moon, Lovell and his crew were faced with a serious problem: a fault in the electrical equipment had caused a loss of power and oxygen. As the world watched, the astronauts aborted their mission and, remarkably, were able to return safely to earth.
The Apollo 13 experience taught Lovell the importance of teamwork, a lesson he now shares with audiences around the world in his career as a public speaker. He also draws on his 25 years in the business world, where he has led firms in the transportation and telecommunications industries. Closer to home, he launched a more down-to-earth venture: Lovells at Lake Forest, a restaurant outside Chicago. 
A sought-after expert on space, education, and science, he received the Space Foundation's Lifetime Space Achievement Award in 2003. He currently serves on the boards of Chicago's Alder Planetarium and of the Astronaut Scholarship Foundation.
Lovell was also selected as #4 in a survey conducted by the Space Foundation to determine "Who is Your Space Hero?" To see the article, click here.
This article is part of Space Watch: November 2010 (Volume: 9, Issue: 11).
---
Posted in Spotlight