Spotlight
---
Futron Satellite Study Shows Transition
Written by: developer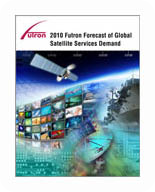 The 2010 Futron Forecast of Global Demand for Satellite Services, released last month, presents a picture of an industry in transition, showing solid continued growth with a range of possible futures, and success dependent on the willingness of satellite operators to innovate in the way they buy and sell satellite capacity and in how they plan and measure their business performance.
According to a Futron announcement, innovation is the key buzzword of today's satellite industry and will be a major force in driving future supply, demand and utilization of satellite capacity.
"The industry has demonstrated remarkable resilience in the face of the recent economic contraction without sacrificing deployment of new offerings and ongoing performance improvements," said the Futron release. "Operators are developing innovative approaches to how they buy, sell and optimize the use of their capacity. Creative partnerships are being established with satellite manufacturers, equipment providers, resellers and customers – including everything from hosted payloads to hybrid network operations, to the repurposing of on-orbit assets for new services, new markets and new customers."
The 2010 Futron Forecast, which covers the ten years from 2010-2019, shows that the fixed satellite services business will continue to demonstrate steady and consistent growth around 4% throughout the forecast period, reaching just under 10,000 36 MHz transponder equivalents (TPEs) by the end of the decade. This reflects steady but somewhat more moderate rates of demand growth than in the recent past.
According to Futron, the major drivers of demand fall along two distinct paths:
In still-developing markets a key driver of growth is the continuing appetite for new and expanded capacity to facilitate the deployment of a robust portfolio of services
In more developed markets there is a push to take advantage of newer, higher power capacity to introduce an increasing wide range of innovative services
For more, click here.
Futron is the Space Foundation's research partner for The Space Report: The Authoritative Guide to Global Space Activity.
This article is part of Space Watch: December 2010 (Volume: 9, Issue: 12).
---
Posted in Spotlight