Spotlight
---
British-Born Astronaut Awarded OBE
Written by: developer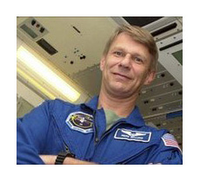 Astronaut Piers Sellers has been awarded an OBE, Order of the British Empire, in recoginition of his contributions to science. Born in East Sussex, UK, Dr. Sellers became an American citizen and flew on three space shuttle missions, most recently in May 2010. 
According to the BBC, Sellers is one of only five UK-born people to have flown in space.
He was selected as an astronaut candidate by NASA in April 1996 and first flew into space aboard the Space Shuttle Atlantis in 2002.
His awards include: NASA Exceptional Scientific Achievement Award in 1994; Arthur Fleming Award in 1995; Fellow of AGU in 1996; AMS Houghton Award in 1997; and Fellow of AMS in 1997.
Read more about Sellers, his career and OBE in the BBC report here.
This article is part of Space Watch: February 2011 (Volume: 10, Issue: 2).
---
Posted in Spotlight