Spotlight
---
Gen. James Cartwright is Featured Speaker
Written by: developer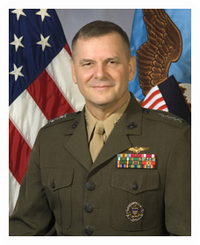 Gen. James Cartwright, USMC, the vice chairman of the Joint Chiefs of Staff and the nation's second-highest-ranking military officer, will speak at the 27th National Space Symposium. He joins a slate of high-level industry, military, civil space and academic speakers at the premier gathering of space professionals, which will be held April 11-14 at The Broadmoor Hotel in Colorado Springs, Colo.
Online registration and more information, including agenda, speakers and exhibitors, are available at www.NationalSpaceSymposium.org.
About Cartwright
Cartwright is the eighth vice chairman of the Joint Chiefs of Staff, which comprises leaders from all branches of U.S. armed forces and advises the civilian government on military matters. He chairs the Joint Requirements Oversight Council, co-chairs the Defense Acquisition Board and serves as a member of the National Security Council Deputies Committee, the Nuclear Weapons Council and the Missile Defense Executive Board. He also co-chairs the Deputies Advisory Working Group, which provides advice to the deputy secretary of defense on resourcing and other high-level departmental business issues.
Cartwright was commissioned a second lieutenant in the Marine Corps in 1971. He completed Naval Flight Officer training in 1973 and graduated from Naval Aviator training in 1977. He has had operational assignments as an non-flight officer in the F-4, and as a pilot in the F-4, OA-4 and F/A-18.
Cartwright is a distinguished graduate of the Air Command and Staff College at Maxwell AFB, earned a Master of Arts degree in national security and strategic studies from the Naval War College, Newport, R. I., and completed a fellowship with Massachusetts Institute of Technology.
 
This article is part of Space Watch: February 2011 (Volume: 10, Issue: 2).
---
Posted in Spotlight