Spotlight
---
Hall of Fame Inductee Featured at Museum
Written by: developer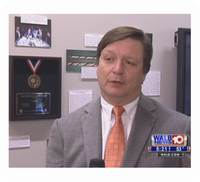 A technology developed by NASA to regulate extreme temperatures that is now used to keep seasonal candy cool in the steamy south Georgia summer and fall in is part of a recently opened exhibit at the Thronateeska Heritage Center in Albany Georgia. The Heat Pipe Technology display in the newly completed Air & Space Exhibit area of the Heritage Center's Science Museum features the technology for which a local candy company was inducted into the Space Foundation's Space Technology Hall of Fame® in 1990.
The Space Technology Hall of Fame® recognizes individuals, organizations and companies that develop innovative products based on space technology that now improve life here on Earth. Heat pipe technology deals with the dramatic temperature variations on non-rotating satellites where the side facing the sun builds up excessive heat and the opposite side becomes very cold. To address the problem, Los Alamos Scientific Laboratories invented the heat pipe as a passive (consumes no energy) heat transfer device where a working fluid alternately evaporates and condenses, transferring heat from one region of the tube to another. To read more about the technology, click here.
Heat pipe technology is used by Albany-based Bobs Candies, which partnered with NASA in the 1980s to test heat pipe technology in its operations. Due to seasonal demand for their Christmas candies, Bobs had to store products year-round until shipping season in the fall. Hot and humid climates in southwest Georgia made it difficult to keep the candy fresh and crisp and conventional methods of air conditioning proved too expensive. Bobs was part of the group inducted in 1990, sharing the spotlight with a diverse group of organizations including NASA Kennedy Space Center, McDonnell Douglas (now The Boeing Company), Los Alamos National Laboratory, Kona Corporation, Georgia Power Corporation, Florida Solar Energy Center, Exxon, Dinh Company and the Alaska Pipeline.
As a participant in NASA's Spinoff Technology Program, a program begun to retrofit space technologies for practical, everyday use on Earth, Bobs Candies helped bring a clean, energy-smart technology to the limelight.
The Heat Pipe Technology exhibit opened to the public on Jan. 27. For more information about the Thronateeska Heritage Center, click here.
To learn more about the Space Technology Hall of Fame®,click here.
Pictured: Tommy Gregors of the Thronateeska Heritage Center in an interview on WALB News 10 in Albany, Ga., with the Space Technology Hall of Fame® Medallion in the background.
This article is part of Space Watch: February 2011 (Volume: 10, Issue: 2).
---
Posted in Spotlight