Spotlight
---
Maryland Superintendent is Shepard Award Recipient
Written by: developer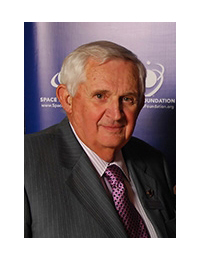 An innovative school superintendent who takes advantage of his school district's proximity to resources and works diligently to inspire and motivate students to excel in mathemateics and science has been selected as the 2011 Alan Shepard Technology in Education Award recipient.
James E. Richmond, superintendent of Charles County Public Schools in Maryland (CCPS) was selected by the Astronauts Memorial Foundation (AMF), the National Aeronautics and Space Administration (NASA) and the Space Foundation for the award, which is given annually in recognition of outstanding contributions to technology education by K-12 educators or district-level education personnel. Named for Mercury Astronaut Alan Shepard, the award will be presented during the opening ceremony of the 27th National Space Symposium on April 11 at The Broadmoor Hotel in Colorado Springs, Colo.
The superintendent of a district with nearly 27,000 K-12 students, Richmond has launched multiple programs to help his students excel in science, technology, engineering and mathematics (STEM). Located 25 miles south of Washington, D.C., CCPS has been able, under Richmond's guidance, to take advantage of its proximity to the Naval Surface Warfare Center, Andrews Air Force Base and the Patuxent River Naval Base to develop compelling and real-life-based technology programs for students. In addition, CCPS has worked closely with the Space Foundation to bring space-related STEM programs to teachers and students.
CCPS programs initiated under Richmond include:
Project Lead the Way, an aerospace engineering-themed course, in CCPS high schools;
Gateway to Technology, which includes a new flight and space curriculum, in CCPS middle schools;
STEM curriculum written by the NASA Dryden Flight Research Center;
Space Foundation Space Across the Curriculum professional development courses for CCPS teachers of all grade levels;
Telepresence distance learning technology for live exchanges among students and aerospace scientists and engineers around the world;
"Magic Planet," a device that allows teachers to use real-time NASA data to create three-dimensional videos that depict scientific phenomenon; and
The Team American Rocket Challenge, an international program to involve students in aerospace engineering.
Richmond's significant accomplishments include:
Securing federal grants to add digital technology to classrooms;
Involving all of the district's 35 schools in the MESA (Mathematics, Engineering and Science Achievement) program since 2007;
Developing productive partnerships with a wide range of space industry, military, government and educational institutions and individual scientists to support and supplement CCPS school programs; and
Including a digital classroom/planetarium with aerospace programming and "Science on a Sphere" for use by students throughout the district in the new St. Charles High School that is scheduled to open in 2013
"Jim Richmond is a vocal champion for STEM and for using space themes to engage students in technology subjects," said Space Foundation CEO Elliot Pulham. "He is also a good friend of the Space Foundation and an extraordinary educator.
"Because CCPS has an educational partnership with the Space Foundation, Pulham said the Space Foundation recused itself from voting when Richmond's nomination advanced to mitigate any perception of a conflict of interest. Richmond was elected unanimously by the other members of the selection committee.
About Richmond
In his fourth term as superintendent of CCPS, Richmond started his education career with Charles County Public Schools in 1966 as a classroom teacher. Since then he has served as: social studies teacher, vice principal, high school principal, director of supervision and curriculum, director of school administration and regional administrator. He has a bachelor's degree in history and political science from Tusculum College, Greeneville, Tenn., and a master's degree in educational administration from Bowie State University, Bowie, Md. Richmond earned his specialist (EdS) degree in school administration from George Washington University in Washington, D.C. He was named as the Maryland State Superintendent of the Year in 2003, and is the recipient of numerous awards for excellence and his work in the area of minority achievement.
About the Award
Alan Shepard, one of the nation's original seven Mercury astronauts, was the first American to fly in space, one of only 12 humans who have walked on the moon, and a former AMF board member. The award named after him recognizes excellence, quality and innovation in the development and application of technology in the classroom or to the professional development of teachers. More information about the award is available at www.astronautsmemorialfoundation.org.
Pictured: James E. Richmond
This article is part of Space Watch: April 2011 (Volume: 10, Issue: 4).
---
Posted in Spotlight