Spotlight
---
Industry Salutes the Space Shuttle Luncheon Inspires
Written by: developer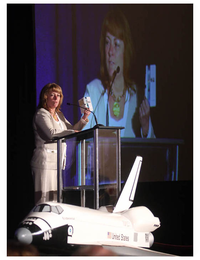 Held on the 30th anniversary of the first orbital Space Shuttle launch, the Industry Salutes the Space Shuttle luncheon – a special one-time National Space Symposium event – focused on thanking and recognizing the organizations and people who contributed to the STS program.
The luncheon featured a video tribute that captured the Space Shuttle program at its finest moments and culminated in the presentation to NASA of a beautiful commemorative sculpture, commissioned by the Space Foundation especially for the luncheon, in honor of the thousands of men and women who have dedicated their lives to the success of the program. Deputy NASA Administrator Lori Garver accepted the sculpture on behalf of NASA.
The event was co-sponsored by the Space Foundation and United Space Alliance (USA). Space Foundation Chief Executive Officer Elliot Pulham and USA President and Chief Executive Officer Virginia Barnes served as co-hosts.
During the luncheon, USA presented a teacher scholarship, one of two it awarded during the Symposium. For details, click here.
To see a video of the luncheon and to access videos of other key 27th National Space Symposium events, click here.
Pictured: Luncheon host Virginia Barnes
This article is part of Space Watch: May 2011 (Volume: 10, Issue: 5).
---
Posted in Spotlight