Spotlight
---
National Space Symposium Coverage Continues
Written by: developer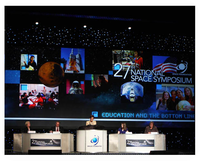 This issue of Space Watch contains synopses of the second half of the 27th National Space Symposium, which was held April 11-14 at The Broadmoor Hotel in Colorado Springs, Colo. The first half was covered in the May edition of Space Watch.
Well over 9,000 people were involved, including speakers, attendees, exhibitors, staff, 100+ co-sponsors and 350+ volunteers. We had representation from 39 countries, including China, the Ukraine, Germany, the Netherlands, Nigeria and Japan and the agenda included senior leaders from every segment of the industry.
One of the most obvious signs of growth was that the Symposium's Boeing Exhibit Center had FOUR exhibit center areas – up from two in recent history. This included three indoor halls, an outdoor display of the Boeing Approach and Landing Test Vehicle (ALTV) vehicle and a Showroom featuring: 
The Boeing Company's Crew Space Transportation (CST-100) spacecraft
The Lockheed Martin Orion Multi-Purpose Crew Vehicle
The Orbital Sciences Corporation Cygnus Spacecraft
The SpaceX Dragon Spacecraft that was successfully launched and returned to Earth last December
To see the first half coverage, click here.
To see photographs, click here.
To see videos, click here.
Mark your calendar for the 28th National Space Symposium, April 16-19 at The Broadmoor.
This article is part of Space Watch: June 2011 (Volume: 10, Issue: 6).
---
Posted in Spotlight