Report from Headquarters
---
Space Foundation Moves to New Headquarters
Written by: developer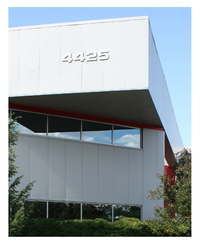 Thanks to generous support from El Pomar Foundation, the Anna Keesling Ackerman Fund, the Colorado Springs Regional Economic Development Corporation (EDC) and the State of Colorado Economic Development Commission, the Space Foundation will move to a new headquarters in Colorado Springs in early July.
As of July 11, the Space Foundation will be based at 4425 Arrowswest Drive in the Garden of the Gods high tech corridor under a condominium agreement with the Foundation for Colorado Springs Future (FCSF), a 501(c)(3) organization established by the EDC. The Space Foundation will occupy 45,715 square feet of space in a 171,500-square-foot office and warehouse structure recently purchased by the FCSF.
The approximately $960,000 purchase of the Space Foundation's portion of the building was funded primarily by El Pomar Foundation and its internal Ackerman Fund, which granted a total of $610,000 – $385,000 in the name of El Pomar and $225,000 in the name of the Ackerman Fund. The EDC helped locate the property and broker the real estate deal and the State of Colorado Economic Development Commission provided $350,000.
El Pomar's grant is contingent upon the Space Foundation retaining its headquarters in Colorado Springs and holding its annual National Space Symposium in El Paso County for 15 years from the date of the gift.
The Space Foundation was founded in Colorado Springs in 1983 and has held the National Space Symposium at The Broadmoor Hotel for the past 27 years.
Although the Space Foundation currently has just under 50 employees, it has significant reputational and economic impact on Colorado Springs, according to its chief executive officer Elliot Pulham. The new headquarters will enable it to grow as an organization and in service to the community. Pulham said that purchasing an existing structure rather than building a new facility is in keeping with the Space Foundation's commitment to protecting and preserving the Earth's resources.
The Space Foundation conducts research and analysis and government affairs activities from its Washington, D.C., office and has field representatives in Houston, Texas, and Cape Canaveral, Fla.
Read Elliot Pulham's previously published thanks to local supporters here.
Pictured: The new Space Foundation headquarters building at 4425 Arrowswest Drive in Colorado Springs
This article is part of Space Watch: July 2011 (Volume: 10, Issue: 7).
---
Posted in Report from Headquarters