Report from Headquarters
---
Space Foundation Report From COPUOS
Written by: developer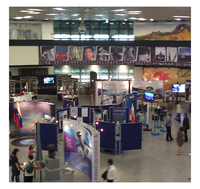 The Space Foundation participated in the 54th Session of the United Nations Committee on the Peaceful Uses of Outer Space (COPUOS) held June 1-10 at the UN's Vienna, Austria, International Center. In its role as a non-governmental organization, the Space Foundation serves as a private sector advisor to the United States delegation.
The session marked the 50th anniversary of the establishment of the Committee and a number of commemorative activities celebrated the anniversary, including a special segment of the agenda featuring statements from the UN secretary general, the director general of the UN office in Vienna, the chairman of COPUOS and astronauts and cosmonauts who had served on the International Space Station.
A roundtable on the theme of "Space Exploration and the Future of Humankind in Space" featured:
China's first astronaut, Yang Liwei 
The first human to walk in space, Russian cosmonaut Aleksey Leonov
NASA Associate Administrator for Education Leland Melvin
Head of the Chilean Space Agency, Juan Acuna Arenas the
European Space Agency Director General Jean-Jacques Dordain
Minister Refaat Chaabouni of Tunisia
Professor Yoshifumi Inatani of the Japanese Space Exploration Agency
COPUOS Chair Dumitru-Dorin Prunaria (moderator)
Additional commemorative activities included the opening of an exhibition of national space programs, special public programs and a reception held by the United Nations Office of Outer Space Affairs.
During the course of the session, the committee addressed agenda items including:
Ways and means of maintaining outer space for peaceful purposes
Spin-off benefits of space technology
Space and water
Space and climate change
Space and society, including promoting greater participation of young people in space science and technology
Use of space technology in the United Nations system
Reports of the Science and Technical and the Legal Subcommittees
The Space Foundation also participated in the informal intersessional meetings of the Working Group on the Long Term Sustainability of Outer Space and several meetings with various strategic partners.
The Space Foundation co-hosted the official United States reception for more than 100 delegates of the meeting.
 
This article is part of Space Watch: July 2011 (Volume: 10, Issue: 7).
---
Posted in Report from Headquarters