Spotlight
---
NASA Unveils Space Launch System Design
Written by: developer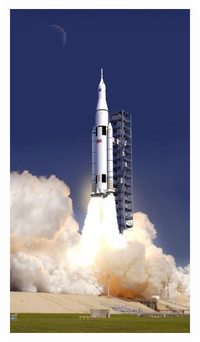 In mid-September, NASA revealed the design of its next-generation heavy-lift launch vehicle that will carry astronauts beyond low Earth orbit (LEO), called the Space Launch System (SLS).
The SLS rocket's core will be a larger derivative of the Space Shuttle external tank, which will include five Space Shuttle Main Engines (SSMEs) and initially two five-segment solid rocket boosters strapped onto the first stage core.
NASA also announced that, eventually, it will hold a competition to design and develop first stage strap-on boosters, which could be fueled by either solid or liquid propellant. The SLS will feature an improved J2-X engine for the upper stage and a Multi-Purpose Crew Vehicle (MPCV) to carry astronauts.
To see NASA's press release, including videos,click here.
To read Space Foundation CEO Elliot Pulham's commentary on the SLS announcement, click here.
Pictured: NASA rendering of the SLS

This article is part of Space Watch: October 2011 (Volume: 10, Issue: 10).
---
Posted in Spotlight