Space Foundation Press Releases
---
GPS, Satellites Top the List of "Must Have" Technologies
Written by: developer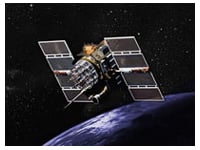 COLORADO SPRINGS, Colo. (Oct. 6, 2011) — Satellites, satellites, satellites!
Participants in a Space Foundation survey have said loud and clear that they cannot live without satellites and the benefits they provide for navigation, communications, weather forecasting and logistics. The survey, which concluded at the beginning of World Space Week, Oct. 4, asked two questions about the impact of space:
Which space-based invention has the biggest impact on society?
What space invention could you not live without?  
In both cases, roughly half the respondents cited various uses of satellites:
24 percent felt that the Global Positioning System(GPS)*, a satellite array managed by the U.S. Air Force that accurately pinpoints location and is most popularly used for navigation, has had the most impact on our lives — and 29 percent said they couldn't live without it
Another 22 percent said that satellites* — especially communications satellites — have the most impact and the same percentage said they couldn't live without them
Reflecting the broad and pervasive impact space research and development has had on our lives, survey respondents named many other life-changing technologies, including:
Medical imaging* (12 percent)
Discoveries made by telescopes, especially the Hubble Space Telescope (8 percent)
Computers and microelectronics (4 percent each)
Robotics*
Aircraft safety*
Cordless tools
Space-age lubricants*
Pressure-relieving foam mattresses*, such as Tempurpedic®
Strong, light-weight materials*
In addition to GPS and satellite technology, the "gotta have it" list included:
Pressure-relieving foam mattresses* (8 percent)
Smoke detectors (6 percent)
Cordless tools*, microwave technology and microelectronics* (4 percent each)
Automotive oil derivatives*
Space-age batteries
Robotics*
Water filters*
The Space Foundation has long recognized the impact of space on life on Earth through two programs — Space CertificationTM, a marketing program for products originally developed for space, and the Space Technology Hall of Fame®, a prestigious recognition program that highlights extraordinary space innovations and their impact.
"It's not surprising that many of the inventions our respondents cited either carry Space Certification or have been inducted into the Space Technology Hall of Fame," said Kevin Cook, Space Foundation director — space awareness. "What's gratifying is that many people know that the technologies that make their lives easier and better originally came from space development — and that the technologies might not be there if there were not active space programs.
"We're announcing the results during World Space Week because this is an excellent time to remind people of the many, many ways space affects them personally," said Cook.
About Space CertificationTM
Products and services that display the Space Certification seal are guaranteed to have stemmed from or been dramatically improved by technologies originally developed for space exploration or to have significant impact in teaching people about the value of space utilization. Developed and administered by the Space Foundation, the Space Certification program provides a marketing edge for Space Certification partners, demonstrates how space technologies improve life on Earth and makes space more interesting and accessible to everyone. Space Certification products and services have been scrutinized by the Space Foundation, working closely with NASA, the European Space Agency (ESA) and other organizations engaged in space research and development. For more information, go to www.SpaceCertification.org.
About the Space Technology Hall of Fame®
The Space Foundation's prestigious Space Technology Hall of Fame® honors innovations by organizations and individuals who transform space technology into commercial products that improve life on Earth. Since the program was established in 1988 to increase public awareness of the benefits of space exploration programs and to encourage further innovation, 65 technologies have been inducted, including energy-saving technologies, life-saving medical devices, health improvement technologies, satellite and telecommunication technologies and practical commercial devices. Additional information about the Space Technology Hall of Fame®, including a complete list of inducted technologies, is available at www.SpaceTechHallofFame.org.
About World Space Week
Billed as the largest public space event on Earth and celebrated in more than 55 nations, World Space Week is held every October 4-10, dates chosen to recognize the launch of Sputnik 1 on October 4, 1957, and the signing of the Outer Space Treaty on October 10, 1967. World Space Week was established by the United Nations General Assembly to be an international celebration of science and technology and is coordinated by the United Nations Office for Outer Space Affairs with the support of World Space Week Association. The 2011 theme is "50 Years of Human Spaceflight" and emphasizes that international collaboration has been key to the success of humans in space. According to the World Space Week Association, as of 2010, human spaceflight missions have been conducted by the former Soviet Union, Russia, the United States, the People's Republic of China and by the private space flight company Scaled Composites. Several other countries and space agencies have announced and begun human spaceflight programs by their own technology, including India (ISRO), Ecuador (EXA), Japan (JAXA), Iran (ISA) and Malaysia (MNSA). See more about World Space Week at www.worldspaceweek.org/.
About the Space Foundation
The foremost advocate for the space industry, the Space Foundation is a global, nonprofit leader in space awareness, educational programs that bring space into the classroom and major industry events, including the National Space Symposium, all in support of its mission "to advance space-related endeavors to inspire, enable and propel humanity." An expert in all aspects of the global space industry, the Space Foundation publishes The Space Report: The Authoritative Guide to Global Space Activity and provides three indices that track daily performance of the space industry. Through its Space Certification and Space Technology Hall of Fame® programs, the Space Foundation recognizes space-based technologies and innovations that have been adapted to improve life on Earth. Founded in 1983 and headquartered in Colorado Springs, the Space Foundation conducts research and analysis and government affairs activities from its Washington, D.C., office and has a field office in Houston, Texas. For more information, visit www.SpaceFoundation.org. Follow us on Twitter, Facebook, and LinkedIn, and read about the latest space news and Space Foundation activities in Space Watch.
*Technologies marked with an asterisk are recognized by the Space Foundation's Space Certification and/or Space Technology Hall of Fame programs

---
Posted in Space Foundation Press Releases