Space Foundation News
---
Space Foundation Co-Sponsors ITAR Training
Written by: developer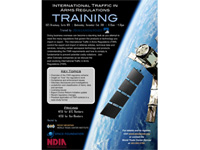 COLORADO SPRINGS, Colo. (Oct. 14, 2011) -- Conducting business in the space arena overseas can be daunting, especially with the many regulations that govern whether products or technology can be imported or exported. Primary is the International Traffic in Arms Regulations (ITAR), which control export and import of defense articles, technical data and services, including certain aerospace technology and products. Understanding the ITAR requirements and how to comply is fundamental to prevent potential costly violations. To help clear up some of the mystery, the Space Foundation is co-sponsoring - along with the Rocky Mountain World Trade Center Institute and the National Defense Industrial Association - an all-day training workshop on ITAR on Nov. 2 at the World Trade Center in Denver, Colo.
Conducted by Attorneys Dave Glynn and Lizbeth Rodriguez of Holland & Hart, the training will cover:
-  How ITAR works
-  Compliance and enforcement
-  Voluntary disclosures and investigations
-  Jurisdiction and classification of items, data and services
-  Licensing
-  The ITAR Export Control Reform Initiative
-  Recent regulatory changes
-  Practical application of ITAR controls in a case study format
The fee for the class is $250 for World Trade Center members, $350 for non-members and $125 for students.
---
Posted in Space Foundation News