Year In Review (archive)
---
Annual Report: Overview
Written by: developer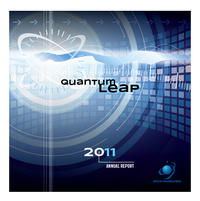 The January issue of Space Watch provided a brief look at the Space Foundation's Quantum Leap: 2011 Annual Report with an overview and articles on the Space Foundation team, the 27th National Space Symposium, Space Foundation education programs, research and analysis, public policy and government affairs and international affairs. This month, we continue with coverage of 2011 accomplishments in space awareness programs, new generation initiatives, awards and corporate membership. So, look to Space Watch for a quick glimpse at our very busy and very successful past year.
For the full story, you can now see Quantum Leap: 2011 Annual Report on the Space Foundation's brand new website. Just click here, click the Annual Report cover on the left and enjoy.
To learn more about the Space Foundation, go to www.SpaceFoundation.org.
This article is part of Space Watch: February 2012 (Volume: 11, Issue: 2).
---
Posted in Year In Review (archive)