Report from Headquarters
---
Space Foundation Index Performance in 4Q2011
Written by: developer

The Space Foundation Indexes ended the year in positive territory, outperforming the NASDAQ and S&P 500 for the year. In the fourth quarter of 2011, the Space Foundation Indexes recovered much of the ground lost in the third quarter. The Space Foundation Index grew in the fourth quarter by 12.64 percent and finished the year with a gain of nearly 7 percent, making it easily the best performing index tracked by the Space Foundation in 2011. Both the S&P 500 and NASDAQ Composite Indexes also recovered significantly during the fourth quarter, as can be seen in Exhibit 1.
The Space Foundation Infrastructure Index was the best performing index for the fourth quarter. The Space Foundation Services Index also had a strong finish, on par with the S&P 500 and well ahead of the NASDAQ for the quarter.
Key movers in the fourth quarter of 2011:
Viasat's 44 percent growth led all Space Foundation Index components in the fourth quarter, while one of Viasat's competitors, Gilat, recorded a 24 percent gain, indicating a healthy upturn for the very small aperture terminal (VSAT) market at the end of the year.
The GPS segment also performed very well, with Trimble and Garmin reporting 34 percent and 26 percent gains in stock price, respectively, over the quarter.
Globalstar rebounded with more than 25 percent growth in market capitalization in the fourth quarter.
Among other index components, Boeing, Loral, Orbcomm, Gencorp and Pendrell Corporation led the way with more than 20 percent growth each.
On the other hand, the satellite remote sensing companies experienced a downturn with DigitalGlobe and GeoEye experiencing 17 percent and 22 percent declines, respectively, in share price over the quarter.
ITT announced the spinoff of its Defense and Information Solutions segment into a new publicly listed company known as ITT Exelis. This company includes the bulk of ITT's former space-related business activity and will be added to the Space Foundation Infrastructure Index for 2012.
During 2011, Pendrell Corporation, formerly known as ICO Global Communications (Holdings) Limited, sold its DBSD North America subsidiary to DISH Network and subsequently announced that it would be divesting itself of its remaining satellite assets in order to fund an intellectual property investment and advisory firm. As a result, the company will no longer be included in the Space Foundation Indexes in 2012.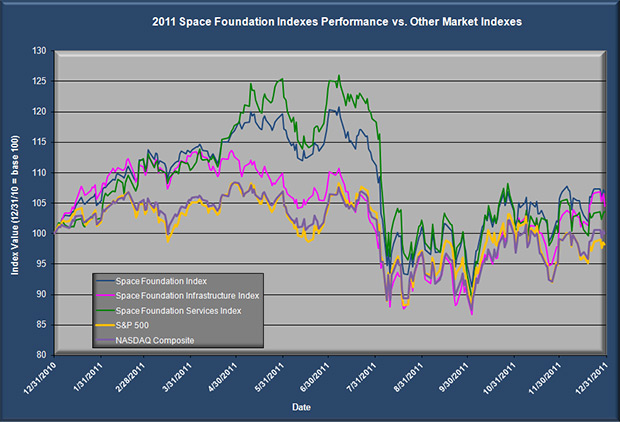 This article is part of Space Watch: February 2012 (Volume: 11, Issue: 2).
---
Posted in Report from Headquarters