Partner News
---
Pratt & Whitney Rocketdyne Successfully Completes Latest Hot-Fire Test on Launch Abort Engine for Boeing's CST-100 spacecraft
Written by: developer

CANOGA PARK, Calif. (March 12, 2012) – Pratt & Whitney Rocketdyne, a United Technologies Corp. (NYSE:UTX) company, successfully completed a full-mission duration hot-fire test on a Launch Abort Engine (LAE) for Boeing's Crew Space Transportation (CST)-100 spacecraft. The CST-100 spacecraft, designed to transport people to the International Space Station and other low Earth orbit destinations, is in development under NASA's Commercial Crew Development (CCDev) program.
The Service Module and Integrated Launch Abort propulsion system is a critical system for safe, reliable and affordable commercial crew transportation. It is designed to push the crew capsule to safety if an abort is necessary. If unused for an abort, the same propellant load can be used for other parts of the mission, including re-boosting the space station orbit. The LAE test was conducted in the California desert.
"The engine achieved full thrust on the 40,000-pound thrust-class engine while validating key operating conditions during engine start-up and shut down," said Terry Lorier, Pratt & Whitney Rocketdyne's Commercial Crew Development program manager, supporting Boeing's program.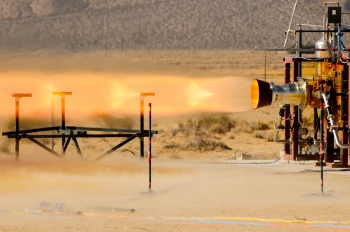 "The tests provided key thermal and analytical data," Lorier said. "We are well on our way to providing an important propulsion system for safe, reliable human spaceflight. The propulsion system's recently-completed preliminary design review demonstrated our design approach meets all requirements and it confirmed we are ready to proceed with the detailed design."
Boeing is advancing the design of the CST-100 in Phase 2 of NASA's Commercial Crew Program (CCDev-2). CCDev-2 builds upon the successful propulsion system design and rapid hot-fire Bantam demonstration engine tests performed during the first round of CCDev. CCDev-2 enables Boeing to reduce key component risks and mature its system through early design reviews. Following development, Boeing will initiate operations with test flights to ensure the system is capable of transporting people to the International Space Station and other low Earth orbit destinations, such as Bigelow Aerospace's planned Orbital Space Complex.
Under its contract with Boeing, Pratt & Whitney Rocketdyne is leveraging proven Attitude Control Propulsion System thrusters from heritage programs, a low-cost Bantam engine design, and its storable propellant engineering capabilities to partner with Boeing.
Pratt & Whitney Rocketdyne, a part of Pratt & Whitney, is a preferred provider of high-value propulsion, power, energy and innovative system solutions used in a wide variety of government and commercial applications, including engines for launch vehicles, missile defense systems and advanced hypersonic engines. Behind its successful designs, manufacturing processes, and hardware are Pratt & Whitney Rocketdyne's research and development engineers, who solve tough problems in extreme environments. For more information, go to www.PrattWhitneyRocketdyne.com. Follow us at www.twitter.com/pwrocketdyne and www.facebook.com/pwrocketdyne.
Pratt & Whitney is a world leader in the design, manufacture and service of aircraft engines, space propulsion systems and industrial gas turbines. United Technologies, based in Hartford, Conn., is a diversified company providing high technology products and services to the global aerospace and commercial building industries.
# # #
Contacts:
Erin Dick
Pratt & Whitney Rocketdyne
+1-818-586-4977
[email protected]
Carri Karuhn
Pratt & Whitney Rocketdyne
+1-818-586-4963
[email protected]
---
Posted in Partner News