Space Foundation News
---
Panel Says Cyber Security Discussions Among Nations is Critical
Written by: developer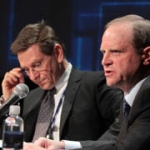 The Cyber in the Global Community panel moderated by Maj. Gen. Robert D. Rego, USAFR, mobilization assistant to the commander, Air Force Global Strike Command, looked at the global implications of cyber security. Key points covered by the panelists included:
Maj. Gen. Jay H. Lindell, USAF, Ret., president, JHLSolutions, LLC: Cyber security is critical to modern warfare and everyday security. The cyber security issue cannot be solved without international cooperation. He also explained the multi-agency network that works to protect the cyber arena within the U.S.
Stefan Sohm, chief, Strategic Foundations and Political Analyses Branch, German Ministry of Defence: Cyber security has become an overarching issue that is a challenge both technically and politically, requiring international cooperation for comprehensive cyber security. Vulnerabilities and opportunities presented in cyberspace must be addressed by the military to be successful in the future. Nations are jumping to implement international laws on cyber security, but discussion among nations is key.
Cyber 1.2 was held on April 16, immediately before the 28th National Space Symposium.
See photos of Cyber 1.2  here.
---
Posted in Space Foundation News