Space Foundation News
---
Luncheon Salutes Warfighters
Written by: developer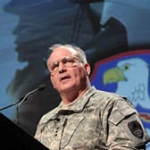 The Space Warfighters Luncheon, held on April 17 at the 28th National Space Symposium, celebrated the men and women who serve in the military around the world and highlighted the role space assets play in providing security and solutions for keeping troops safe, informed and effective.
The luncheon was co-sponsored by Boeing.
Master of Ceremonies ADM James O. Ellis, Jr., USN, Ret., president & CEO, Institute of Nuclear Power Operations, told the crowd that the luncheon's focus was not on "old guard," but rather on the future warfighter. He then recognized all the currently and recently deployed, veterans and international servicemen, who were acknowledged with a standing ovation.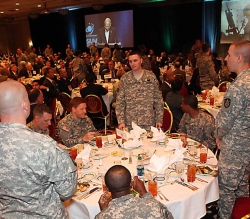 The audience included 21 service members from Peterson and Schriever Air Force Bases who had been deployed in the past year to Bagram, Afghanistan; Al Udeid, Qatar; Bahrain; and Djibouti, Africa.
Corporate Host Roger A. Krone, president, Boeing Network & Space Systems, introduced speaker LTG Richard P. Formica, USA, commander, U.S. Army Space and Missile Defense Command/Army Forces Strategic Command and Joint Functional Component Command – Integrated Missile Defense.
Formica reflected on what space means for service members of all U.S. armed forces, saying that space capabilities employed across the Army provide a vast array of adaptive tools. "We are reliant on space, and sometimes take it for granted," he admitted. "But, if the army is going to shoot, move, and communicate, it needs space"
Formica outlined the tasks and responsibilities of U.S. Army space, including professional development of the Army's space cadre and noting that future Army astronauts are a possibility. "Think of U.S. Army Space as the socket, and the Army space support team as the plug," he said.
During the luncheon, Boeing presented a donation of $5,000 to Homefront Cares.
---
Posted in Space Foundation News