Space Symposium
---
Shelton Discusses History, Budget and Future
Written by: developer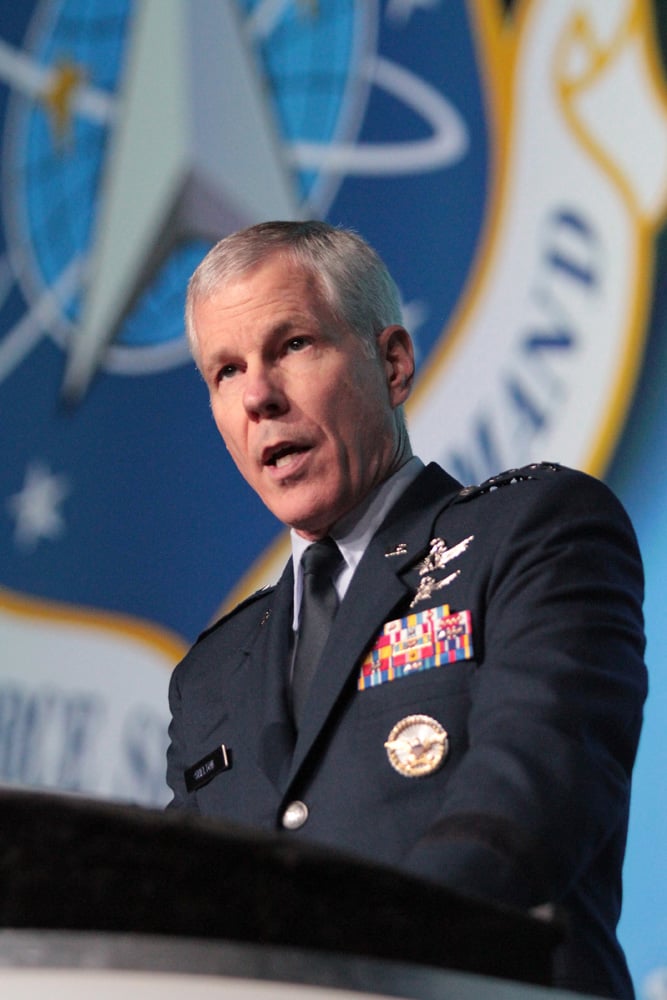 In his April 17 remarks before a capacity audience at the 28th National Space Symposium, Gen. William L. Shelton, USAF, commander, Air Force Space Command (AFSPC), highlighted accomplishments of AFSPC's 30-year history, saying "Moving from a time when space was a 'nice-to-have' with a strategic-user emphasis, to being a vital force multiplier across the entire joint force, space capabilities are now indispensable not only to our nation's defense, but to our national economy as well."
Among the highlights Shelton mentioned were:
The 49th successful launch of the Evolved Expendable Launch Vehicle
AFSPC's industry partnership to rescue the first Advanced Extremely High Frequency (AEHF) satellite from a useless orbit
Completed on-orbit checks to provide imagery to U.S. Central Command less than a month after launch of the Operationally Responsive Space-1 satellite
Completion of the largest GPS constellation realignment in history, allowing satellites to provide better coverage in urban canyons and mountainous regions
Success of the X-37 orbital test vehicle, which has been on orbit for 409 days -much longer than the 270-day design specifications
Positive outcomes from the Joint Space Operations Center, which provides resources to process over 155 million sensor observations and track over 22 thousand orbiting objects
Speaking about the budget, Shelton said the future of AFSPC is heavily dependent on budgetary considerations. "After we look at all the puts and takes… the real decrease in the FY13 Air Force space budget portfolio was only 1.5 percent," he said, demonstrating "commitment to foundational space capabilities as a critical aspect of the nation's defense." He then outlined additional AFSPC missions supported in the new budget:
Wideband Global Satellites (WGS)
AEHF satellites
New nuclear command and control system ground terminals and an aircrew terminal
Space-Based Infrared System (SBIRS) satellites
GPS-III
Looking to the future, Shelton said smaller satellites, simpler designs and fewer on-board systems will increase constellation resiliency and decrease program costs, improving the launch cost-per-pound equation. He also said space-based situational awareness capability is critical.
Shelton said the future vision for AFSPC is focused more on information than platforms. "We now take for granted that we'll have speed-of-light access to data wherever we are for warfighting purposes," said Shelton. "But it's just spam if you can't act on the data provided and turn it into decision-quality information."
Click here to read full transcript. See photos here. See video here.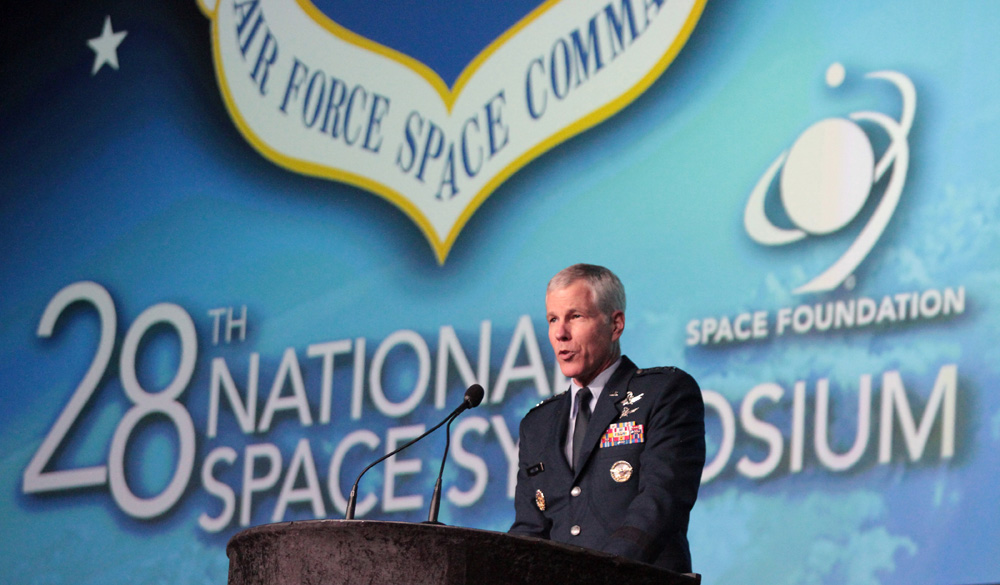 This article is part of Space Watch: May 2012 (Volume: 11, Issue: 5).
---
Posted in Space Symposium