Space Symposium
---
Ball Aerospace Exhibit Center, New Pavilion An Overwhelming Success
Written by: developer
The Space Foundation's National Space Symposium is known as the single annual event where exhibitors can reach all of their customers in one place. In 2012, the Ball Aerospace Exhibit Center was the biggest and most exciting in Space Symposium history.
The main hall of the Ball Aerospace Exhibit Center held the largest displays, most from long-time Space Foundation corporate members and co-sponsors.
The new Ball Aerspace Exhibit Center Pavilion at The Broadmoor Hotel was a fantastic addition to the exhibit space, with 100 of the total 166 exhibitors housed there. And response from exhibitors was overwhelmingly positive. The Pavilion was also the location for the annual Space Foundation Student Art contest display and a series of book signings by such authors as Dr. Neil deGrasse Tyson, P.J. O'Rourke and Mark Stevenson. The art contest display won a top award from the Colorado American Marketing Association.
Of the 166 Space Symposium exhibitors, 42 were new for 2012 and of those, six companies have already signed up to exhibit for the 29th National Space Symposium, to be held April 8-11, 2013, at The Broadmoor Hotel in Colorado Springs, Colo.
The 42 new exhibitors in 2012 included: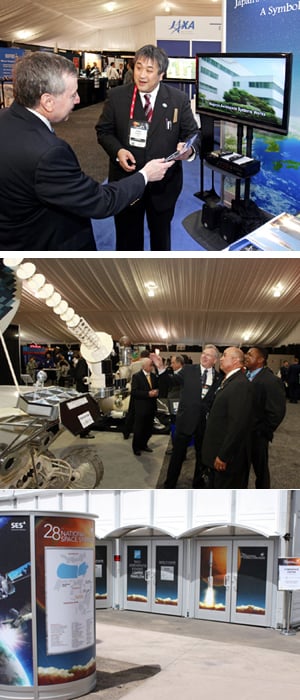 Accutek Testing Laboratory
Air Force Reserve
Alaska Aerospace Corporation
Aldec, Inc.
Alfresco Software Inc.
AMX
Astro-und Feinwerktechnik Adlershof GmbH
BRPH Architects-Engineers
Canada's Aerospace Community
Cascade Tek
Command & Control Technologies Corp
Composite Technology Development, Inc.
Compunetix, Inc.
Dunmore Corporation
Embry-Riddle University
Extron Electronics
Fiberteck, Inc.
Flotron, Inc.
Fluor Corp
Geospatial Intelligence Forum
GlobalAOC
Japan Aerospace Exploration Agency (JAXA)
Kansas Cosmosphere & Space Center
LeFiell Manufacturing Company
Magnolia High-Performance Epoxy
Martinez & Turek, Inc.
McCollister's Transportation
National Space Grant & Fellowship Program
Omnetics Connector Corporation
Operationally Responsive Space Office
Sandia National Laboratories
Satnews
Scalable Network Technology
Solidyn Solutions, Inc.
Spacecraft Technology Expo
STAR-Dundee, LTD
TDK-Lambda America
T.E. Connectivity
Telecomunnication Systems, Inc.
The SI
TouchTable, Inc.
University of North Dakota — Dept of Space Studies
The Space Symposium provides access to decision makers not only in the U.S., but also from around the world. In 2012, international participation included representatives from 21 countries, including: Austria, Australia, Canada, Denmark, Ethiopia, France, Germany, India, Indonesia, Ireland, Isle of Man, Italy, Japan, Mexico, the Netherlands, Republic of Korea, Romania, Sweden, Switzerland, United Arab Emirates and the United Kingdom.
For 2013, the main exhibit center is already sold out. For space in the new Pavilion contact [email protected].
This article is part of Space Watch: July 2012 (Volume: 11, Issue: 7).
---
Posted in Space Symposium