Space Foundation News
---
Chiao Receives Russian Medal for ISS Service
Written by: developer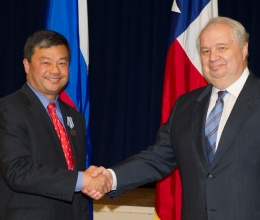 Space Foundation Special Advisor – Human Spaceflight Dr. Leroy Chiao is among 34 astronauts who were awarded the Russian Medal of Merit for Space Exploration at a ceremony on June 29 at NASA Johnson Space Center (JSC) in Houston.
NASA Administrator Charles Bolden, Jr., and JSC Director Mike Coats participated in the event.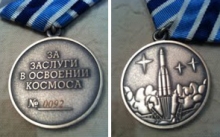 Presented by Russian Ambassador Sergey I. Kislyak, the medal was signed into decree by Russian President Medvedev to recognize "achievements in research, development and utilization of outer space, for a substantial contribution to the development of rocket and space technology and industry, training, research and design activities, for the implementation of international programs, as well as for other achievements in the field of space activities aimed at the comprehensive socio-economic development of the Russian Federation, at strengthening its defense and ensuring national interests, for encouraging and increasing international cooperation." Usually presented only to Russian citizens, the medal may be awarded to foreign citizens for "outstanding achievements in the development of space technology in the Russian Federation."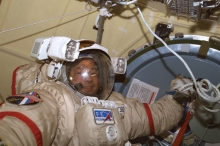 The honored U.S. astronauts served on Mir and/or the International Space Station (ISS) in conjunction with Russian cosmonauts. A veteran of four space missions, Chiao served as commander and NASA science officer of Expedition 10 aboard the ISS. He traveled to and from the ISS aboard a Russian Soyuz rocket and spent six and half months on the station. He has logged over 229 days in space – over 36 hours of which were spent in extra-vehicular activity (EVA – or spacewalks).
Chiao has been affiliated with the Space Foundation as a special advisor since 2011.
Pictured, top left: Dr. Leroy Chiao is congratulated by Russian Ambassador Sergey I. Kislyak; middle right, Chiao's Russian Medal of Merit for Space Exploration; bottom left: Chiao in space
---
Posted in Space Foundation News