Space Foundation Press Releases
---
Buy Individual Tickets Now for The Space Foundation Presents a 30th Anniversary Salute to Air Force Space Command
Written by: developer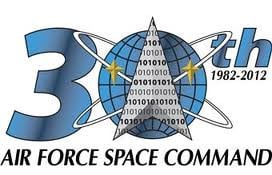 Colorado Springs, Colo. (Aug. 29, 2012) — Individual tickets are still available for The Space Foundation Presents a 30th Anniversary Salute to Air Force Space Command, which will celebrate the history and contributions of the Air Force Space Command and its 30-year heritage in the Pikes Peak community. Tables sold out in early August for the Sept. 14 at The Broadmoor Hotel in Colorado Springs, Colo., but some individual tickets are still available.
The event will feature a reception, dinner, awards presentations and remarks by former Air Force Space Command (AFSPC) Commander Gen. Kevin P. Chilton, USAF, Ret., who will be introduced by current AFSPC Commander Gen. William L. Shelton, USAF. Space Foundation Chief Executive Officer Elliot Pulham will serve as master of ceremonies.
AFSPC's official anniversary is Sept. 1.
Three major awards, all of which have historically been presented during other local events, will be presented during the gathering:
The National Defense Industrial Association (NDIA) Rocky Mountain Chapter's General James V. Hartinger Award
Air Force Association (AFA) Lance P. Sijan Chapter's General Jerome F. O'Malley Distinguished Space Leadership Award
Winners of the Air Force Space and Missile Pioneers Award
Blue Steel, the United States Air Force Academy band, will provide entertainment. The reception begins at 6:00 p.m. and dinner is at 7:00 p.m.
All Guests to Receive Commemorative Poster, Courtesy of Northrop Grumman
Attendees will each receive a commemorative Air Force Space Command 30th Anniversary poster, created for AFSPC by artist Richard Green and printed by the Space Foundation with funding from Platinum Corporate Member Northrop Grumman.
Individual Ticket Prices Tiered by Rank
Registration rates for active military are tiered by rank to allow for a larger number of attendees; the costs are being underwritten by table sales. To register, go to http://bit.ly/PzOTtq
About Air Force Space Command
The Air Force established AFSPC in 1982, with space operations as its primary mission. During the Cold War, space operations focused on missile warning, launch operations, satellite control, space surveillance and command and control for national leadership. In 1991, Operation Desert Storm validated the command's continuing focus on support to the warfighter. The Space Warfare Center, now named the Space Innovation and Development Center, was created to ensure space capabilities reached the warfighters who needed it. ICBM forces joined AFSPC in July 1993. In 2001, upon the recommendation of the Space Commission, the Space and Missile Systems Center joined the command. It previously belonged to Air Force Materiel Command. AFSPC is currently the only Air Force command to have its acquisition arm within the command. In 2002, also on a recommendation from the Space Commission, AFSPC was assigned its own four-star commander after previously sharing a commander with U.S. Space Command and NORAD. In the aftermath of the 9/11 terrorist attacks, the president directed military action against Afghanistan and Iraq. AFSPC provided extensive space-based support to the U.S. Central Command commander in communications; positioning, navigation and timing; meteorology; and warning. In 2005, the Air Force expanded its mission areas to include cyberspace. In concert with this, the Air Staff assigned responsibility for conducting cyberspace operations to AFSPC through Twenty-fourth Air Force, which was activated in August 2009. In order to reinvigorate the Air Force's nuclear mission, Headquarters U.S. Air Force activated Air Force Global Strike Command to consolidate all nuclear forces under one command. Along with this, AFSPC transferred its ICBM forces to the new command in December 2009.
About the Space Foundation
The foremost advocate for all sectors of the space industry and an expert in all aspects of space, the Space Foundation is a global, nonprofit leader in space awareness activities, educational programs that bring space into the classroom and major industry events, including the National Space Symposium, all in support of its mission "to advance space-related endeavors to inspire, enable and propel humanity." The Space Foundation publishes The Space Report: The Authoritative Guide to Global Space Activity and provides three indexes that track daily performance of the space industry. Through its Space Certification and Space Technology Hall of Fame® programs, the Space Foundation recognizes space-based technologies and innovations that have been adapted to improve life on Earth. Founded in 1983 and headquartered in Colorado Springs, the Space Foundation conducts research and analysis and government affairs activities from its Washington, D.C., office and has a field office in Houston, Texas. For more information visit www.SpaceFoundation.org. Follow us on Facebook, LinkedIn and Twitter, and read about the latest space news and Space Foundation activities in Space Watch.
# # #
---
Posted in Space Foundation Press Releases