The View From Here
---
The View from Here: School Buses are Beautiful!
Written by: developer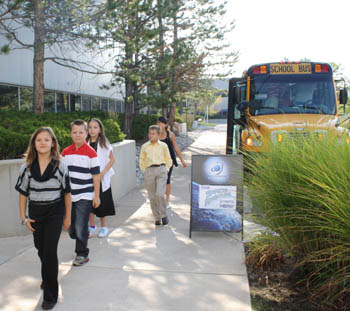 Wednesday, Sept. 19, was a huge day for us at the Space Foundation - the day that big yellow school buses began showing up at our headquarters, bringing students and teachers to the new Northrop Grumman Science Center, featuring Science On a Sphere® (SOS). Grand Opening festivities are set for Oct. 5, with a special Northrop Grumman Family Day on Oct. 6.
The students and teachers were part of a pioneering group of 11 schools collaborating with the Space Foundation to introduce a new customized Space Foundation science, technology, engineering and mathematics (STEM) curriculum to Colorado schools. The students participated in classes that included an SOS demonstration, lecture and hands-on activities. Plus, they got a sneak peak at our soon-to-open Space Foundation Visitors Center, featuring exhibits in the El Pomar Space Gallery.
The first in the door were Mrs. Janssen's 4th graders from Talbott Elementary School, Widefield School District 3 (Colorado Springs, Colo.), followed by Mrs. Gibson-Steiner's 5th graders from Discovery Canyon School, Academy School District 20 (Colorado Springs, Colo.).
While SOS is not a new educational tool, its presentation in the Northrop Grumman Science Center breaks new ground. With a built-in computer lab, 70-inch HD digital display systems to complement the six-foot spherical projection system, surround sound and stadium seating for 49 students, the Space Foundation installation of SOS is one of the largest and most sophisticated in the world. Yet, what really makes this capability significant is the new curriculum developed for the system by our space education specialists and the teachers and students representing all levels of K-12 education in the Rocky Mountain West - courses that we've named Wonders of the Universe.
This new, standards-based curriculum, built around more than 350 existing SOS data sets, allows us to apply the SOS technology to PreK-12 STEM education in a more engaging and effective way than ever before.
Thanks to the generous support of Northrop Grumman, a platinum-level Space Foundation corporate partner and underwriter of the Northrop Grumman Science Center, we expect to quickly ramp up to a capability to engage thousands of students every year in these exciting new Wonders of the Universe education programs. In addition to offering standards-based, grade-level-appropriate curriculum and instruction for educators and students, the Northrop Grumman Science Center will offer general interest SOS presentations to the public beginning Tuesday, Oct. 9. That's when our Visitors Center, including the modest first increment of the El Pomar Space Gallery, opens. We will be open on Tuesdays, Thursdays and the first Saturday of the month as we continue to collect artifacts and exhibits, and raise construction funds to bring the rest of the Visitors Center on line over the next few years.
Yes, we need your support. More about that later.
Significant Milestones
The advent of one-of-a-kind, high-fidelity learning laboratories as a key component of Space Foundation education programs began several years ago, with the donation of a $3 million Space Missions Simulator learning lab by Analytical Graphics, Inc. The AGI lab was created at the Space Foundation Discovery Institute, on the grounds of the Jack Swigert Aerospace Academy, in Colorado Springs.
About a year later, thanks to Honeywell and other Space Foundation supporters, the AGI Lab was joined by the Space Foundation Mars Yard and Robotic Experience - a fusion of robotics and Mars exploration programs featuring an indoor simulated Martian terrain and robotics lab. Together, the AGI Lab and the Mars Yard continue to immerse hundreds of students, teachers and young adult learners in unique, hands-on STEM education programs every year.
Despite the success and popularity of the AGI Lab and Mars Yard, the powerful Science On a Sphere system, developed by the National Oceanic and Atmospheric Administration (NOAA), remained at the top of the Space Foundation's "wish list" for our educational enterprise. But there were two huge challenges to overcome. The first challenge, as it always is for educational endeavors, was funding. The second, very problematic challenge, was facilities. SOS requires a large footprint and tall overhead spaces - neither of which were available at the Space Foundation Discovery Institute without the out-of-scale expense of constructing an entirely new building.
Fast forward to December 2010, when the Space Foundation and a coalition of Colorado community groups were able to announce the gift of a new 47,000-square-foot headquarters building. Thanks to the generosity of El Pomar Foundation, the Anna Keesling Ackerman Fund, the Foundation for Colorado's Future, the State of Colorado, the Anschutz Foundation and the E.K. and Thelma Gaylord Foundation, the Space Foundation settled into a huge, new permanent headquarters where what we can do for our industry, for our community and for the next generation of explorers and pioneers is limited only by our imagination.
Exciting Things to Come
This month's opening of the Northrop Grumman Science Center is the first, bold step in our vision to create a world-class center of formal and informal space education serving Colorado, the southwest United States and the world. In addition to the Northrop Grumman Science Center, we have opened the first, modest increment of the El Pomar Space Gallery - featuring space hardware, artifacts, and exhibits contributed by such diverse supporters as NASA, the Kansas Cosmosphere & Space Center, United Launch Alliance, Arianespace, Northrop Grumman and a former astronaut. Plus, our Ackerman Conference Center - also part of our new world headquarters - is now serving our partner organizations and non-profits in the region for meetings.
As contributions enable us, we are prepared to expand the El Pomar Space Gallery, with more than a thousand items now in the Space Foundation collection and impressive new artifacts and exhibits arriving all the time. Priorities include renovating another 10,000 square feet of exhibit area and constructing a 100-seat "classroom of the future" that will work hand-in-glove with the Northrop Grumman Science Center, allowing us to articulate our award-winning STEM curriculum for distance delivery to classrooms around the world. Finally, after 25 years as stewards of the Space Technology Hall of Fame™ program, we will also have the opportunity to create a physical home for this program that recognizes the benefits of some of the greatest innovations born of space exploration.
An important feature of this effort is the novel, "go-as-you-can-pay" approach we've taken to development. For years we've been convinced that a classic, massive "upfront" fundraising campaign could not work in the current economic climate. We also realized that the Space Foundation enjoys partnerships and relationships with companies, organizations and individuals throughout the global space enterprise, as well as here in Colorado. Working together with our supporters, emphasizing step-by-step progress, avoiding debt - we believe we can create a world-class space destination.
Colorado Springs is probably the single-most important space city in the world to not already have such a facility. As we mark the 30th Anniversary of Air Force Space Command, and with Colorado's emergence as the second largest space economy in the nation, we believe such a landmark is long overdue.
How can you help?
First and foremost - use us! If you are a partner of the Space Foundation, the Ackerman Conference Center is available to you for business meetings and our Area 51 team lounge is the perfect place for business entertaining and social gatherings. We encourage educators to bring your students to us, and parents to insist that your children's teachers are taking advantage of what we offer. And, although public visiting hours will be limited at first, we encourage everyone to come see what we're doing. For complete details click here.
Second, if you or your organization knows of a space artifact or exhibit that is gathering dust or rust and should be on public display, please let us know! As we've collected items over the past year, we've been heartbroken to learn of the many incredible artifacts that end up irreparably damaged or destroyed. Whether the item is as small as a pencil or as large as a spaceship - please consider whether  the Space Foundation Visitors Center in Colorado Springs may or may not be an appropriate permanent home.
Third, yes, we need funding. Not the many, many millions typically sought in an effort like this, but incremental injections of cash for everything from the exotic (refurbishing of major artifacts) to the mundane (paint, carpet, restrooms). Major contributions may come with naming rights and every donor will be recognized.
Fourth, consider becoming a volunteer. One of the most important ways for us to keep costs under control, and to engage the community, is through our partnerships with our volunteers. Volunteer docents, reception teams, collection management teams and security teams are already playing a huge role in this effort. It is a hugely rewarding, and fun, way to help.
The creative, collaborative journey to create a world class space destination in Colorado has begun in earnest. As those big yellow school buses continue to arrive at Space Foundation headquarters, our team here could not be more excited, enthused, and energized.
The View from Here is that those school buses are beautiful!
Please join us in this fabulous opportunity to inspire, enable and propel humanity.

Elliot Holokauahi Pulham
Chief Executive Officer
P.S.
Looking for a fun way to support our education efforts? Consider attending or sponsoring the first Space & Science Fiction Halloween Ball, Sat., Oct. 27, at Space Foundation world headquarters. Dancing to the sounds of Big Mike the D.J., beer by Bristol Brewing, prizes for best costumes, a silent auction, classic sci-fi films . . . it's going to be a scary good time, with all proceeds supporting Space Foundation STEM education programs. Tickets are available on line at www.scifisprings.com.
---
This article is part of Space Watch: October 2012 (Volume: 11, Issue: 10).
---
Posted in The View From Here